There are many music players available on the market today but not all of them are good. In this article, we have compiled a list of the best music players for Linux.
So, if you are looking for the best music player for Linux, then you should check out our list.
1 . VLC Media Player For Linux
I think everyone knows about VLC media player, it is a famous video and music player of windows, most of the people use VLC media player in windows, it supports many file formats.
But the good thing is that it is also available for Linux, it is a great music player for Linux users. It is a free multi-media player that plays most multimedia files as well as DVDs, audio CDs, VCDs and various streaming protocols.
2. Clementine
Clementine is a free, open source music player for GNU/Linux operating systems. It supports various file formats, including MP3, OGG, FLAC, APE, Musepack, Speex, and more.

This music player is remarkable for its UI customization. Users can change the appearance of the player to match their desktop environment. They can also create their own playlists and add music they love to hear every day.
The software offers a sidebar to observe the playlists, search for music, and attain several other functions. Almost every user loves this music player for its features. The user interface is also quite easy to use, making it even more appealing.
3. Amberol
If you want a simple music player for Linux without any extra features then this is the best music player for you.
Amberol is the best app for anyone who wants an intuitive user experience and complete control over their music. With Amberol, you can shuffle your songs, create playlists, and navigate through your music library with ease.
4. . Spotify
Most of you must have heard about spotify, it is a famous music player in Android. Many people would also use it on their ios and android. It has a wide range of users, and people love its music quality.
You will be happy to know that Spotify is also available for Linux. You can use it for free and you can also take premium for it.
5. cmus
Cmus is a music player software that is compatible with all newer systems and runs seamlessly on all low-configured computers. It is lightweight and requires minimal RAM to run. It also supports almost all types of music formats and file types, including MP3, MP4, MPEG4, and several others.
Cmus is quite helpful to users who are comfortable using Vim on Linux. Its Vi-style command mode is one of its most striking features. Moreover, cmus only uses around 15 MB of memory, making it one of the most lightweight audio players for Linux..
Cmus users can change the appearance with several themes available.
6. Rhythmbox
Rhythmbox is a popular GNOME desktop environment (DE) based music player. It has been available since version 2.24.0 of Ubuntu.
Despite its dedication to the GNOME desktop environment, Rhythmbox is a lovely music player inspired by Apple's iTunes. It provides robust playlist management, burning audios, DAAP, podcasting, and remote control functionality.
7. Amarok
Amarok is a music player that is available for Linux, Unix, and Windows. It has an interface that is easy to use and makes playing the music you love discovering new music simpler than before. In addition, it looks good while doing it!
Amarok is the default music player for all KDE users. Most Ubuntu users also appreciate Amarok because of its impressive features and the high-quality of its music playback. There are some other aspects that make it exceptional as well.
8. Google Play Music
If you have used the Google Play Music app on your Android device, then this app should be familiar. You can play songs offline from your local library, or from online radio stations and music libraries.
The Google Play Music app is an open source desktop music player from Google. It has a beautiful user interface, and you can access all the music stored in your account by logging into it. The music player has lots of great features including HTML5 audio support, customisable themes, desktop notifications, Last.fm scrobbling support and music playback in the background.
9. Apple Music
Apple Music is now accessible for almost all Linux platforms, and it is becoming among the most popular music applications on the Linux platform. You can access original and exclusive audio content that is specially curated for each occasion. Additionally, you can listen to thousands of radio stations from around the globe and stream millions of songs with no advertisements.
10. Gnome Music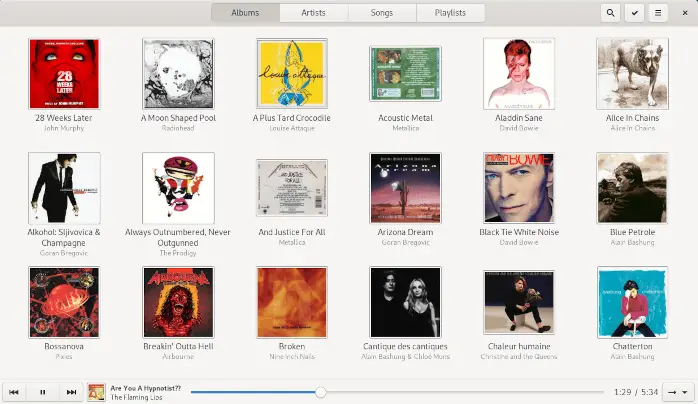 If simplicity is what one desires in a music player, then GNOME Music is the way forward. It doesn't come with any fancy features, just a simple interface that allows users to browse through their music collection and play songs they like.
It also comes with plenty of keyboard shortcuts for navigating and playing music. Users can choose between four tabs – Albums, Artists,Songs, and Playlists, to sort music and listen to what they like. Why use GNOME Music?
Download https://wiki.gnome.org/Apps/Music
Installing GNOME Music in linux
sudo apt-get install gnome-music