YouTube Shorts is a pretty big deal. Google didn't just add any old thing to YouTube- they added something that would revolutionize the way people use the site. And it did. In a very short amount of time, YouTube Shorts has amassed a huge following all its own. People love consuming short-form videos because they're easy to create and easy to consume. That's why YouTube loves to promote them.
YouTube Shorts are a controversial topic. Some people love them because they're small and engagement-packed, while others hate them because they consider them a waste of time. These videos can also be a big reason why people spend hours aimlessly scrolling through their feeds. If you're someone who hates getting YouTube Shorts recommendations on your home feed, there are some ways you can get rid of them. Using any of the methods given below should help you get rid of these videos from your feed.
5 Best Way To Disable Youtube Shorts.
1. Use YouTube in the browser
YouTube shorts are not available on the browser version of YouTube. You can open your favorite browser on your smartphone and go to https://www.youtube.com/ to watch YouTube without shorts.
2. From YouTube Setting
The next method we have on our list is much more straightforward than the last, however its only downfall is that it can only be used on a handful of devices.
Click On Your Profile Icon And GoTo Setting
2. From Setting Select General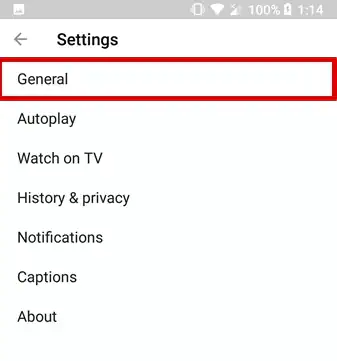 Select Settings and then choose General. You'll see a new menu item called "Shorts". Click on it and you'll see a checkbox labeled "Turn Off Shorts" just below it. Check the box and you're done!
Well, this option is quite handy and is a single-click solution to the annoying Shorts but is limited to some old versions of the YouTube app. If you find it, you hit the jackpot, but if not, you can simply look over to other options on our list.
3. Uninstall all updates.
To turn off YouTube Shorts, go to your account settings and remove all update options.
If you're trying to figure out how to turn off YouTube Shorts, there's an easy way to do it. Just remove all of the update options. Here's how:
Go to your smartphone's Settings > Apps or Manage Apps option. Find the YouTube app and click on it. At the top right end, click on the three dots. Click on Uninstall Updates. This will replace your YouTube app with an older version of YouTube.
4.  Use YouTube vanced app
YouTube Vanced is an application that allows users to access YouTube Premium without paying any subscription fee. Along with premium features, it also comes with powerful features such as disabling ads, YouTube shorts and sponsored content in YouTube.
Below I have listed out how you can download YouTube Vanced app from the direct link below. You can download Youtube vanced manager from the direct links given below and follow the detailed installation process from here
Download the YouTube Vance Manager from visiting this link, Install the app and follow the setup instructions, After you completed the setup, open the app and follow the step listed below.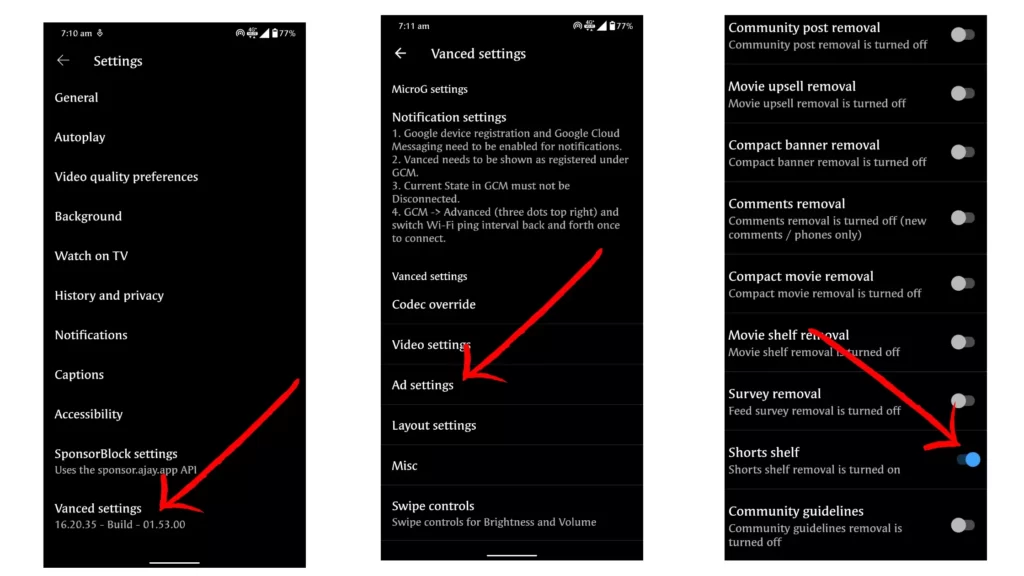 Open Youtube Vanced app
Go to settings and then vanced settings
Go to ad settings
Go to the bottom and turn on short self.
Now Go back and then go to layout settings
Now go to comment location alpha section and turn on
This will disable Youtube shorts completely on the Youtube app.
5. Use Old Version Of YouTube
The YouTube mobile app recently started offering YouTube Shorts as a feature, which means you can downgrade to an older version of the app to avoid it. YouTube 14.13.54 (1413542300) is the version that introduced this feature, so downgrading to the 14.12.56 (1412563300) is the only way to remain away from YouTube Shorts.
To download the current Youtube version 14.12.56, click the link and install the app from the Unknown sources option. You can disable the auto update feature of the Youtube app by going to Google playstore and turning off the auto update feature.
You May Also Like
How To Disable Reels On Facebook In Android
How to Delete Your Reddit Account And Why You Should
8 Simple Tips to Speed Up Windows In 2022
Best Headphones Under 1000: Reviews, Comparisons, and Buying Advice