You know how your network speed is either lightning fast or it feels like you're crawling? You might think there's nothing you can do to keep that from happening. But you're wrong! By using the right Android tools, you can make sure your network speeds are as consistent as possible.
Your internet service provider (ISP) might be Throttling your internet speeds without you even knowing it. This means that your internet connection can be slower than usual, which can affect your browsing and streaming experience.
Luckily, there are ways to test your Internet speed so you can ensure you're getting the speed you paid for. In this article, we'll show you the three fast and simple methods to check Internet speed on your Android smartphone.
Show Network Speed On Status Bar
Most Android smartphones have a built-in feature which allows users to view their real-time upload and download speeds. You can access it in your phone's settings, and it eliminates the need for any third-party app or website to perform an Internet speed check. Here's a step-by-step guide on how you can display your Internet speed on your phone's status bar.
Open your phone's Settings.
Tap on the 'Notification and control centre"
Scroll down and select 'Status bar"
Select the 'Show connection speed'" option.
Now you can view your internet speed in real-time on your smartphone's status bar! This feature is available on both iOS and Android devices, so you can always stay aware of how fast your connection is while you're on the go.
2. Use Thrid Party Apps To Show Network Speed
Testmy.net is a speed test website that is beneficial for users to see if they are receiving the internet speed they are paying for. The website is easy to use, simply click on 'Test my download speed' and the speed test will run using your internet connection to download randomly generated data. This speed test checks your download speed. You can also check your upload speed using Testmy.net. Another helpful feature of TMN is the option to schedule automatic speed tests, which check your internet speed during different times throughout the day/week/month to make sure you're consistently getting the speed you're paying for.
2. Ookla speed test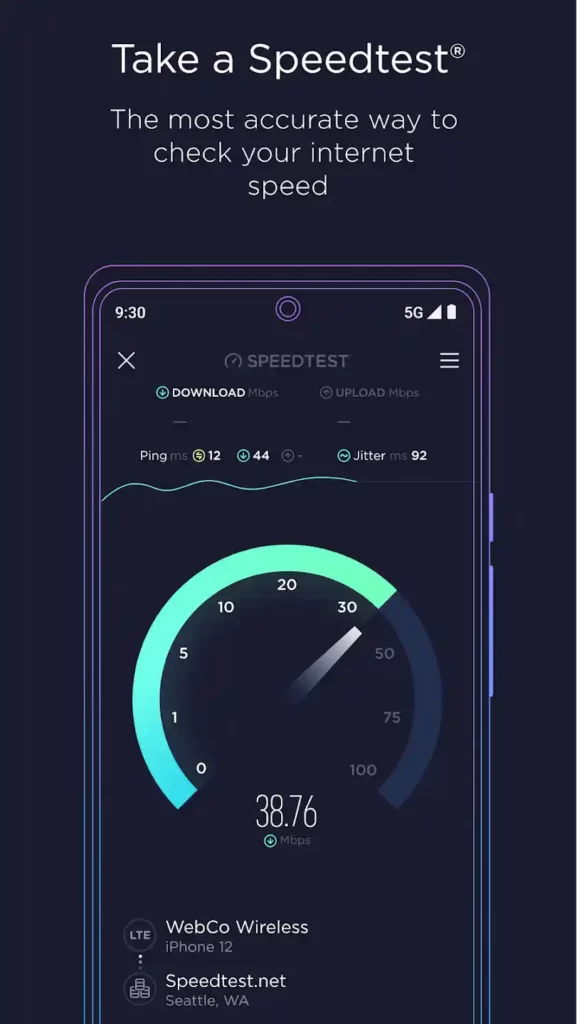 Ookla is one of the most popular internet speed testing apps. The app provides accurate speed readings and has different tests you can perform on your network, like testing download and upload speeds or your network's video streaming capability. Ookla also offers a VPN service on its app with the first 2GB of data over VPN for free. Plus, one of the more unique features Ookla has is the ability to compare different network providers in different regions and check their speeds using real-world data.
3. Internet Speed Meter Lite
This is a simple and convenient tool that shows your current internet speed on your smartphone's status bar. It also shows how much data you've used in a separate pane in the notification panel. You'll get a notification each day letting you know how much data you've used, and you can also see a graphical representation of your internet usage.
Conclusion
Checking your Internet speed on your Android smartphone is easy with these three apps. The Google Play Store has several different speed test apps available for download. Ookla Speedtest is the best of the bunch, but it's always a good idea to use a couple more services to get a more accurate idea of your network speed.
ReadAlso:
How to show battery percentage on iphone xr In 2022
WhatsApp's Roll Out Screenshot Blocking Feature (2022)
6 Best Sites for Safe Android APK Downloads in 2022