If you're on a tight budget and want to play games, then building a computer might be the best option. Most laptops and pre-built computers won't offer the flexibility of choosing the exact parts you want, plus they'll cost more. in this articale you read Best Gaming PC Build Under Rs 30,000
Additionally, they can't be upgraded easily like a custom-built computer. With this budget of 30,000, you're better off building a custom computer yourself than buying a laptop or pre-built machine. So if you want to find out what kind of components would work best for your computer build, then this guide should help you make some better choices.
These components will offer good value for money, and they'll let you play most modern games in full HD resolution with some minor adjustments. This Gaming PC can handle all the latest Games at 1080P with a minimum of 50-100 FPS. Games like GTA 5, Watch Dog 2, PUBG, APAX, Fortnite, and DOTA 2 will run smoothly on this PC.
So, without further delay, here are the best gaming PC components you can get for under Rs 30,000.
Best Gaming PC Build Under Rs 30,000
1. Processor
AMD Ryzen 3 3200G with RadeonVega 8 Graphics
The Ryzen 3 3200G is a great choice for this particular build as it offers the necessary computing power with 4 cores and 4 threads support. With a base clock speed of 3.6 GHz and a turbo speed of 4 GHz, it's a speedy processor that will suit gamers and creators. it comes with a good quality CPU cooler, so you don't have to spend extra money on that.
Features:
4 Cores & 4 Threads
Base Clock: 3.6GHz, Max Boost Clock: up to 4GHz, 6MB Cache, TDP: 65W
System Memory Specification: 2933MHz
System Memory Type: DDR4, Memory Channels: 2
Socket: AM4, Motherboard Compatibility: AMD 300, 400,serles chipset based motherboards
Graphics: AMD Radeon Vega 8 Graphics, Heatsink Fan: Wraith Stealth, Warranty: 3 Years
3 Years Brand Warranty.
AMD Ryzen™ 5 4600G Desktop Processor (6-core/12-thread,₹11,260
2. Motherboard
ASUS Prime A320M-K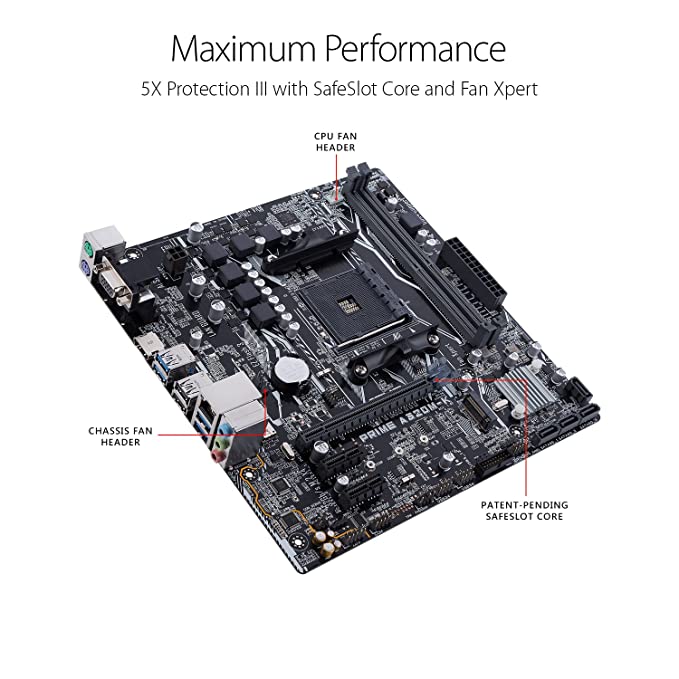 When you're building a gaming PC, it's important to pick the right motherboard. You need to make sure that the board you choose is compatible with all the components you're planning on using. We could have gone for a more expensive gaming motherboard, but it would have pushed the cost of our build way above our budget. So instead, we settling on the ASUS Prime A320M-K, which is a great value for money option.
The board has an AMD A4 socket and is compatible with the Ryzen second and first gen processors. It comes with a m2 SSD slot and two RAM slots which support up to 32GB RAM (max 3200 mAH). Overall, it has all the necessary features we can expect in an entry-level gaming motherboard.
3. RAM
Corsair Vengeance LPX 8GB DDR4 3200MHZ
Gaming PCs require a minimum of 8 GB RAM, using less than 4 GB memory is not a good idea for gaming. That's what I choose Corsair Vengeance LPX 8 GB DDR4 RAM with 3000 MHz frequency, the memory stick is a great choice for gamers who want to play AAA titles.
This RAM is designed to provide maximum stability and reliability. It has an aluminum heat spreader, which helps in fast heat dissipation, thus ensuring better performance. Overall, it is among the best budget RAM that one can buy in this gaming PC build below 5000 rupees.
4. SSD
Crucial BX500 240GB
We recommend using a 240 GB SATA internal SSD for this gaming PC build because it offers the speed and responsiveness that an HDD can't match. This will make your PC faster overall and reduce how long it takes for apps to load.
5. Power Supply: Ant Esports VS500L
To power our PC build, we are going to use the Ant Esports VS500L Power Supply. A 500W PSU like this one is enough for this budget gaming PC build – and it's also a great value for your money. There are other cheap options out there, but I wouldn't recommend them as they can damage your PC components.
6. Cabinet:
1. CHIPTRONEX X310B
For this gaming PC build, you need a case that gives a stylish look and also offers cool air to your powerful components. That's why I selected the CHIPTRONEX X410B gaming cabinet for this PC build.
The cabinet has a transparent side panel and comes with great cooling and eye-catching looks. Priced at Rs.₹2,184, this cabinet is one of the best value-for-money options for the gaming PC build under 30000 Rs.
2. Galax PC Case (REV-05) Revolution 05 Black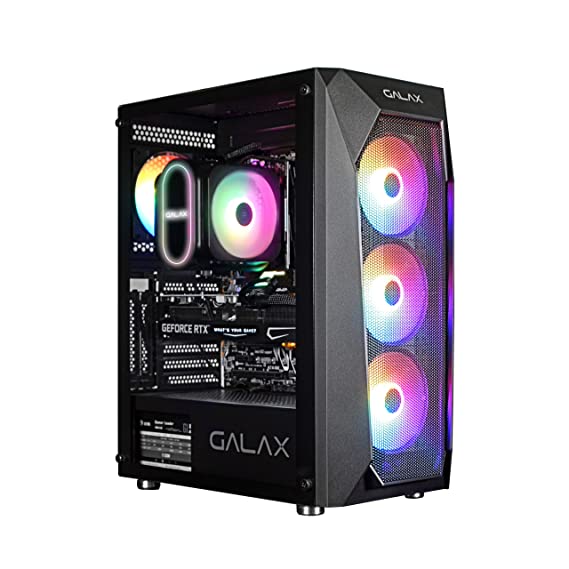 Redragon Diamond Storm CA903 Gaming Cabinet ₹4,990
Conclusion:
| Component | Model | Price |
| --- | --- | --- |
| Processor | AMD Ryzen 3 3200G with RadeonVega 8 Graphics | ₹7,999 |
| Motherboard | ASUS Prime A320M-K | ₹5,500 |
| RAM | Corsair Vengeance LPX 8GB DDR4 3200MHZ | ₹2,450 |
| Storage | Crucial BX500 240GB SATA SSD | ₹1,890 |
| Power Supply | Ant Esports VS500L Power Supply | ₹1,841 |
| Cabinet | CHIPTRONEX X310B | ₹2,184 |
| Total | | ₹21,864 |
Extra : Monitor+ keyboard mouse combo
ZEBRONICS Zeb-V19Hd 18.5 Inch (46.99 cm) Led Monitor
Features
46.9cm Screen Size (18.5inch LED Display)
46.9cm Screen Size (18.5inch LED Display) HDMI & VGA Ports for Input, Response Time: 8 ms
HD 1366 x 768 Native resolution with 16:9 Aspect Ratio
Supports 16.7 Million Colors
High quality 220cd/m² Maximum Brightness
Dynamic Contrast Ratio 500000:1
Viewing Angle H170°/ V160°.
8ms Response Time & 0.3 x 0.3 mm Pixel Pitch Green
Wall Mountable, Glossy Panel and Slim Design
One year warranty carry into service center
Zebronics Zeb-War Gaming Keyboard and Mouse Combo
Features:
Mouse Includes Compact & Ergonomic Design
Keyboard Interface : USB, Mouse Interface : USB
1 Year Warranty. Carry into Service Center. For List of Service Centers, see Product Information
Keyboard Includes Integrated Media Control Keys,Gold Plated USB And Braided Cable
Zeb-War is a Gaming USB Keyboard And Mouse Combo with Multicolour LED. Keyboard: Product dimension 435 x 125 x 40 mm (W x D x H). Mouse : Product dimension 63 x 115 x 38 mm (W x D x H)
It also has dedicated buttons for DPI,Forward & Backward
Keyboard Keystokes Life : 12 Million Times, Mouse Button Life : 3 Million Times
| | |
| --- | --- |
| Monitor+ keyboard mouse combo | 5,649 |
| Total | ₹22,864+5,649 =28,513 |
So, these were the best components to choose from while building your gaming PC on a budget of Rs 30,000. We try our best to update the prices regularly, but they may vary sometimes.
If you're looking to build a gaming PC on a budget, this is definitely the list for you. We've gathered the best components that will give you the most bang for your buck – all while staying under Rs 30,000. So what do you think? Is this your first PC build, or do you already own one? Let us know in the comments.
Read Also
The 7Best Free Video Editors for Mac In 2022