Android OS is becoming increasingly popular as an operating system for PCs. It offers a wide range of features and functions that make it a great choice for users who want to get the most out of their PC experience.
With its easy-to-use interface, customizability, and compatibility with most hardware, Android OS is quickly becoming one of the best choices for PC users.
In this article, we will discuss the best Android OS for PC and explore some of its key features such as multitasking support, security, performance optimization tools, and more. We will also discuss some use cases where Android OS can be beneficial for PC users.
Finally, we will provide our recommendations on which version of Android OS is best suited for various types of users.
1. Bluestacks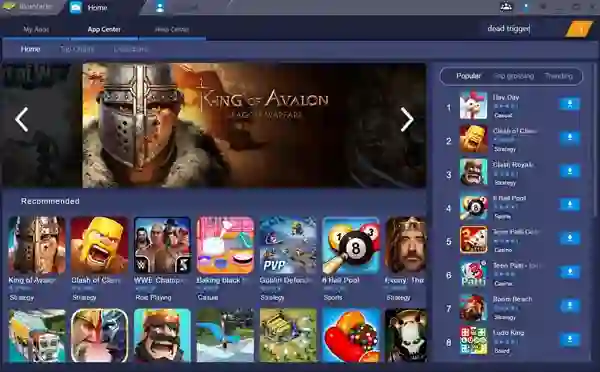 Bluestacks is an Android emulator that allows you to run Android apps on your PC. With Bluestacks, you can download and install Android apps and games directly on your computer. Bluestacks is free to download and use, and it is available for Windows and MacOS.
Bluestacks is a great way to run Android apps on your PC. It's free and easy to use, and it has a variety of features that make it a great option for Android users. Here are some of the best features of Bluestacks:
You can run multiple apps at once, making it great for multitasking.
It has a built-in app player, so you don't need to download any additional software.
Bluestacks is compatible with a variety of Android devices, so you can use your favorite apps on any device.
The interface is easy to use and intuitive, so you'll be able to get started using Bluestacks right away.
Whether you're a casual Android user or a power user, Bluestacks is a great option for running Android apps on your PC. With its easy-to-use interface and variety of features, Bluestacks is the best way to experience Android on your PC.
Download: Bluestacks
2. Pheonix OS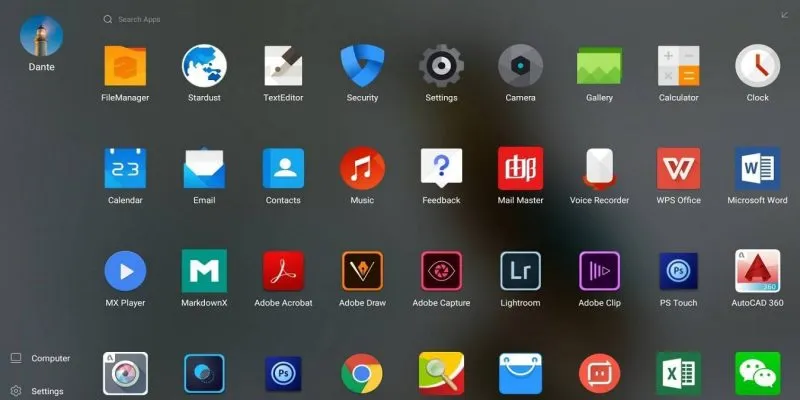 Phoenix OS is a fork of the Android operating system, with a custom user interface and additional features. It is designed to be compatible with low-power devices such as smartphones and tablets.
The user interface of Phoenix OS is based on the Material Design guidelines. It includes a custom launcher, icons, and wallpapers. The system settings are also customized, with a separate settings menu for each app.
Phoenix OS includes a number of features not found in the stock Android operating system. These include a custom file manager, a media player, and support for external storage devices. Phoenix OS also has its own app store, with a selection of apps not available on the Google Play Store.
Overall, Phoenix OS is a well-designed fork of Android that offers a number of features not found in the stock operating system. It is a good choice for those who want a more customizable experience, or for those who need support for low-power devices.
Download: Pheonix OS
3. PrimeOS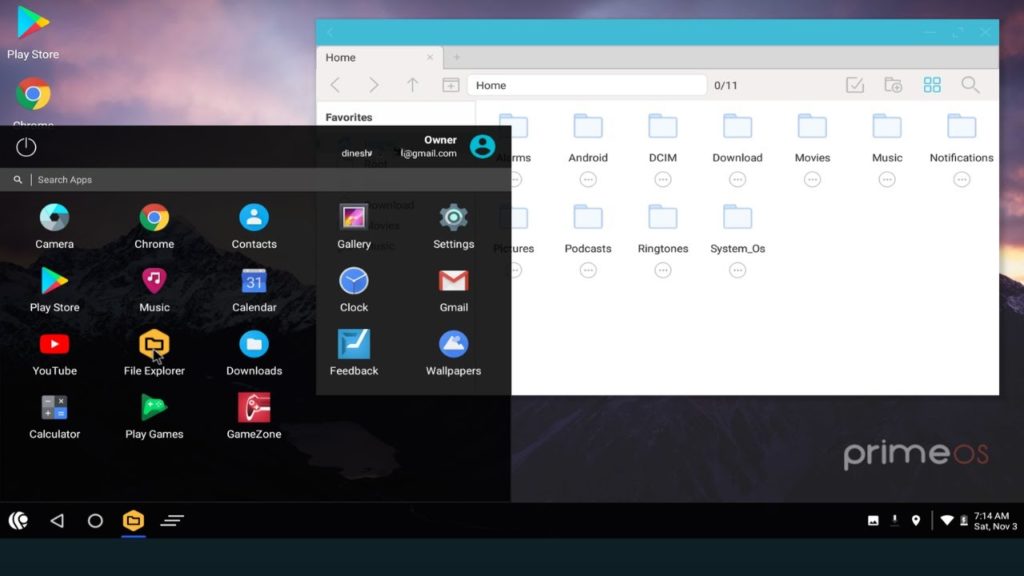 PrimeOS is an Android-based operating system with a desktop environment. It is free, open-source software and is designed for gaming, productivity, and convenience. PrimeOS was developed by Prime Technology and released in March 2021. It provides a full-featured Android app experience, including support for Google Play Store, full multi-window support, and more.
It also includes an intuitive mouse and keyboard interface, making it easy to use on conventional computers and laptops. Prime OS is optimized for gaming, with support for popular gamepads and controllers and support for popular gaming apps and emulators.
It is an Android-based operating system that is compatible with both Windows and Mac computers, offering users a full desktop experience. Its user interface is attractive and easy to navigate, and the emulator comes with a host of features that make it an ideal choice for gamers.
These features include key mapping, the ability to customize game controls, lightning-fast performance, and a built-in file manager.
In addition, PrimeOS is lightweight and secure, and its game center provides users with access to all the latest games, as well as tools to manage keymapping and graphics settings, and a chatroom to connect with the PrimeOS community.
All in all, PrimeOS is an impressive Android operating system that is suitable for PCs, and we highly recommend that you give it a try.
Download: PrimeOs
4. Android x86
Android x86 is an open-source project that provides users with the opportunity to experience an Android-like environment on their personal computer. It is developed and maintained by a number of contributors, and is distributed under the terms of the Apache Public License 2.0.
Android x86 is a successful endeavour in providing users with a simulated Android experience that closely resembles that of Samsung's Dex platform.
It is equipped with various features, such as Bluetooth and Wifi support, allowing for easy multitasking, and a stable experience. Unlike ChromeOS, the software is not designed for gaming. So it does not offer custom key mapping or high-speed performance.
However, it is still a great piece of software to use, providing users with the ability to run Android apps on their PCs.
Download: Android x86
5. Remix OS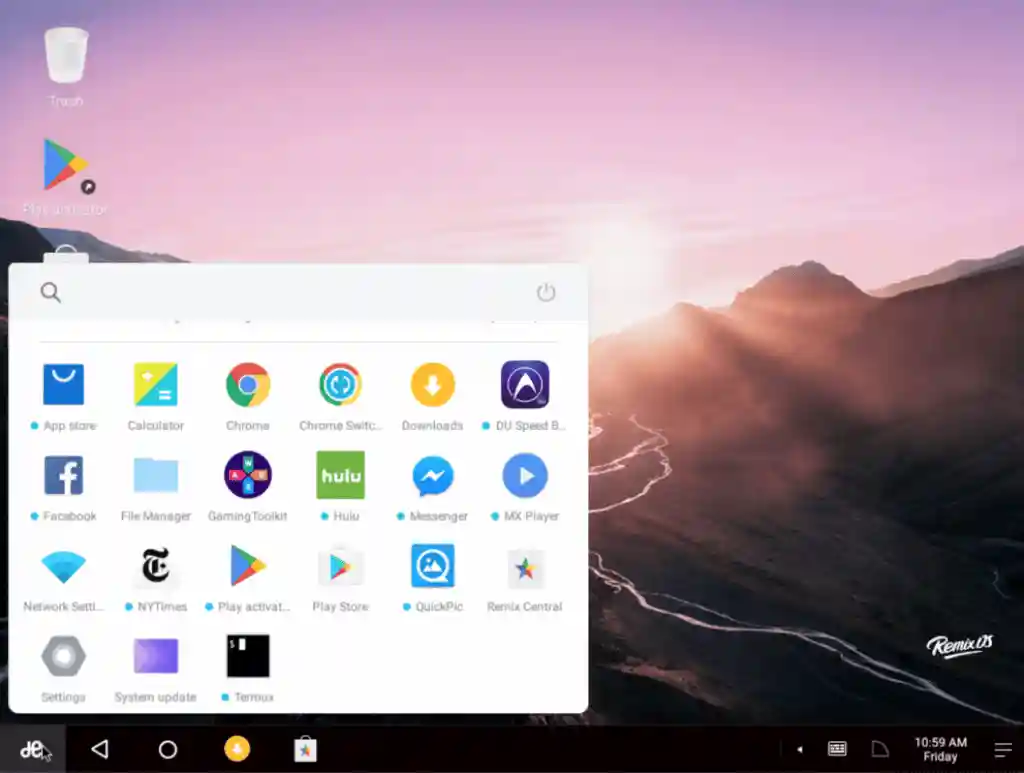 Remix OS is a computer operating system that combines the user experience of a traditional desktop interface with the capabilities of an Android operating system. It is an excellent Android operating system to install on your personal computer.
This OS provides the advantages of right-clicking and a taskbar, making it simpler to operate on a desktop computer. Additionally, Remix OS allows users to access virtually all of the apps available on the Android platform with negligible compatibility issues.
Furthermore, this OS offers desktop-grade features such as the capacity to resize windows for more efficient multitasking.
Remix OS provides a straightforward and intuitive user interface along with low hardware and software requirements. This OS can be downloaded and utilised on both 32-bit and 64-bit systems. Making it a versatile choice for many users.
Furthermore, Remix OS offers custom key mapping which is a feature that is not available with all Android emulators. So if you are looking for a combination of Android and Windows with customised key mapping then Remix OS is one of the best choices.
Download: Remix OS
Also Read:
The Best Custom ROMs for Android In 2023
The Best Ai Anime Editor Apps For Android And iOS
Top 8 Best Free Antivirus Apps for Android in 2023