There are many free antivirus apps available on the Google Play Store but not all of them are worth using. Read our review to help you choose the best. We have compiled a list of top ten free antivirus apps for Android devices.
These apps are easy to install and provide good protection against malware attacks.
With so many free antivirus apps, choosing the right one can be difficult. In this article, we have reviewed some of the best free antivirus apps for Android.
An antivirus software is a program that helps protect your device from viruses, malware, spyware, and other threats. These threats can enter your device through malicious websites, links, or applications.
In today's world, we rely heavily on our smartphones to perform many important tasks. That's why it's so important to have an antivirus program in place to protect our personal information from being mishandled by criminals.
1. Bitdefender
Bitdefender Antivirus is a powerful yet lightweight app that protects your phone against malware and other threats using cloud-based scanning technology. It automatically scans any new apps you download and has a high success rate in catching malware before it can cause any damage.
Bitdefender Antivirus Free runs in the background and doesn't interfere with normal mobile phone usage, so you can rest assured that your device is always protected.
With Bitdefender, you can get access to a secure VPN that lets you surf the Internet for 200 MB per day. Plus, you get anti-theft protection, protection against viruses, and much more.
The app is affordable and highly recommended. While a free version is available, its alternatives offer a better range of features with their free plans.
Features:
Gives you a secure VPN for surfing the Internet.
Lets you find, lock or format your device, in case it is lost or stolen.
Puts zero to minimal impact on your battery life.
Look after your account's privacy and verify whether your email account has been breached.
Works on Android 5.0 or later.
An Internet connection is required for its functioning.
Download: Bitdefender
2. Norton Mobile Security
Norton Mobile Security is the best antivirus for Android smartphones as it protects your device from various threats, provides security from cyber crimes, and safeguards you while browsing the Internet.
Norton's Android app scans apps for viruses and malware before you download them to your device, and it also scans all of the existing apps on your device.
If Norton flags an app as potentially malicious, it will alert you so you can decide whether or not to download it. The app also flags apps that collect too much sensitive data, use too much data or battery, or in any other way present a risk to your device or data.
Features:
Their patent-protected app scanning technology saves your mobile phone from any sort of threat.
Helps to save your device from cyber-crimes.
Notifies you if you connect to a non-trustworthy Wi-Fi network.
Detects malicious websites.
Proactive Malware Blocker
Privacy Advisor
This app is designed to show you where in the world your personal information and photos might be sent. By using this app, you can help to protect your privacy and keep your data safe.
You can keep a check on the privacy risks before downloading an app from Google Play.
Download: Norton 360: Mobile Security
3. Avast Mobile Security
Avast Mobile Security is one of the best free antivirus applications available for Android users. It comes with a number of features such as anti-theft, anti-spyware, anti-malware, and parental control. You can also use its VPN service to protect your privacy while browsing the internet.
Avast Mobile Security is the best free antivirus for Android phones, with 4.8/5 ratings on the Google Play store. If you're looking for an antivirus for multiple devices at your home or office, Avast is the recommended choice.
Features:
Detect malicious apps before you install them.
Perform regular scans to detect threats and vulnerabilities.
Protects you from links on the web that can cause a threat to your device.
Block malicious links and websites and flag sensitive ones on all browsers.
Verify the security of any Wi-Fi network.
Keep your browsing history private with the VPN provided by Avast.
Lets you share the app with up to 10 devices.
Download: Avast Mobile Security
4. AVG AntiVir
AVG AntiVir is an excellent choice for those who need a simple yet powerful antivirus app. It offers real-time protection against viruses, spyware, adware, and other malicious software. It has a clean interface and a user-friendly design.
Features:
Helps you find your phone in case of theft.
Get an alert if you receive any phishing attempts via texts, emails, or chat apps that target your private data.
Stay private online, hide your IP address,
Avoid web attacks and unsafe downloads by automatically blocking malicious websites
You can lock the apps on your phone with a password.
If someone tries an incorrect password on your mobile 3 times, the app will automatically take his photo and will mail it to you, with the time and location of the incident.
Automatically locks your device when the sim is replaced.
Scan the Wi-Fi network you're connecting to in order to identify any security vulnerabilities that could put your data at risk.
Protects your device from viruses, malware, spyware, unsafe apps and settings, unwanted callers, and other nasty threats.
Download: AVG Antivirus Free
5. Avira Antivirus
Avira is the best free antivirus for Android. It gives you comprehensive protection against malware, privacy invaders, and online threats. Plus, it comes with a free VPN for 100 MB per day.
If you want even more protection, you can upgrade to a paid plan. Premium features include premium mobile apps, VIP customer support, and more.
Avira's privacy scanner is excellent. Like Norton, it analyzed all the apps on my device and notified me which ones had access to my contacts, images, and browsing data. I was pretty surprised to find that some free games on my device were actually harvesting my data even when I wasn't playing them!
Features:
Get a free VPN for surfing 100 MB per day.
Protects you from millions of mobile threats
Conceals your activities from advertisers, spies, and others
Frees up space and memory on your phone
Tools to help you get your phone back in case of a theft.
Notifies you instantly, in case of data breaching.
Lock the apps on your phone with a password.
App privacy scanner.
Anti-theft protection.
Data breach scanner.
Wi-Fi scanner.
Device optimizer.
Blocks all websites that seem to be a threat to your device.
Download: Avira
6. Kaspersky Internet Security
Kaspersky Internet security is an excellent choice for those who need a reliable anti-virus solution for their mobile device. It offers comprehensive protection against viruses, spyware, adware, Trojans, and other malicious software. It also has a number of features that make it easier to use than some of its competitors.
Kaspersky provides mobile security for Android devices. It offers you antivirus and tools for protecting your privacy and identity. This software works on artificial intelligence to continuously detect and block potential threats to your device.
Features:
Keeps an eye on threats 24/7.
Anti-theft features, including locking, locating, and wiping a stolen device.
Protects from threats with advanced technologies
Detects the apps that are spying on your calls or texts.
Lets you remotely lock, locate & wipe missing or stolen devices
Alerts you if you come across a URL that steals your information.
Detects & warns about apps installed to spy on you
Automatically scans your apps.
Warns about phishing links in texts, emails & on websites
Lets you lock apps with PIN security – plus hides calls & texts from prying eyes
Download : Kaspersky Mobile Antivirus
7. McAfee Mobile Security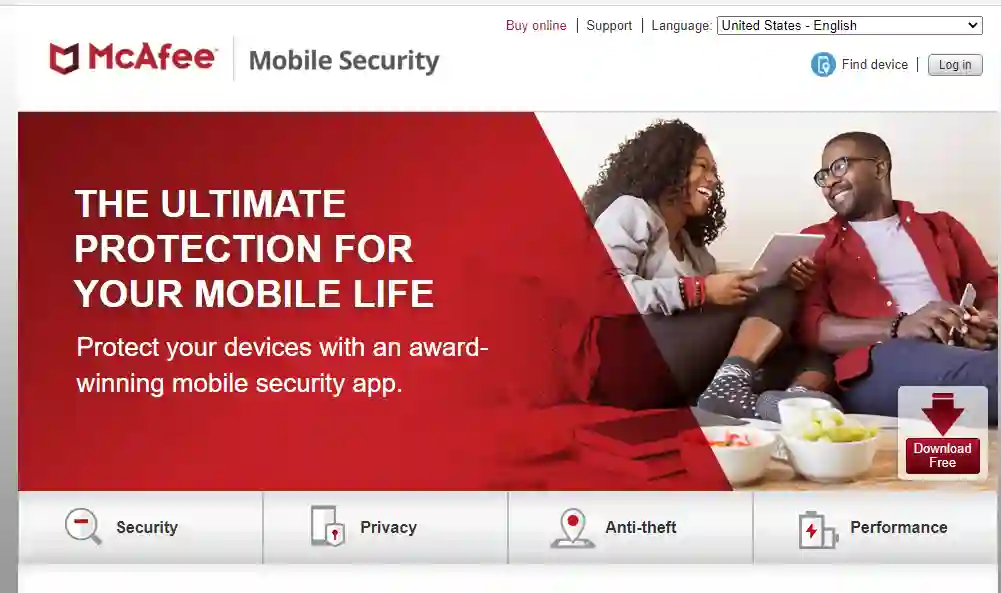 McAfee Mobile Security is one of the best antivirus apps available for Android users. It comes with a variety of features that allow you to protect yourself from various threats. You can easily scan files, messages, photos, and more using this app. It also provides real-time protection against malware and phishing scams.
Features:
Protects you from threats like malicious links, websites, etc.
Get access to McAfee's VPN to protect your credentials and financial information from those who want to steal your info.
Regularly scan the apps on your device and blocks threats.
Protects your personal information from non-trustworthy websites or links.
Download : McAfee Mobile Security
8. Antivirus Virus Remover Boost
Antivirus Mobile app provides top-quality deep scans to keep your phone safe from viruses and other threats. It has a simple interface that makes it easy to use, and a powerful engine that will keep your phone protected. Additionally,
it offers to clean up your phone's memory and has a powerful junk cleaner to help keep your phone running smoothly.
The Trojan Horse is one of the most common types of viruses out there, and it can be especially dangerous for those who install apps from outside the Play Store. If you've got an Android device, you need to be extra careful – but thankfully, Antivirus Mobile can help.
It's got a robust cleaning system that can detect and remove this type of virus, and it also offers real-time protection against the latest threats. So if you're worried about malware, adware, or viruses, Antivirus Mobile is the app for you.
Features:
Optimized junk cleaning algorithm for more deeper cleaning.
Improve overall performance to make it run smoother and faster
Bug fixes and performance improvements.
Virus definitions updates are now 90% smaller, reducing data consumption.
Added more languages
Add notification warning
Fix Applocker on Android 10+
Download:Antivirus Mobile
Conclusion
Although smartphones have become fairly secure nowadays, there is still a chance of being hit by malware and spywares. Many apps and webpages come with malicious content that can harm your device and slow down its performance.,,,The antivirus apps mentioned earlier help reduce these risks and boost your device's speed.
And by constantly monitoring it, they decrease the chances of security breach and or becoming infected with spywares.,,,However, no matter how effective an antivirus app is;
it is always advisable to avoid opening links from unknown sources and never download any app or webpage unless you are absolutely certain it is safe and secure. This will prevent your device from all sorts of threats.,,,