The best NFT Wallets have been selected by experts from around the world. Find out what they think about them! NFTs are a new asset class that has yet to find its niche in the market. NFTs are an abbreviation for non-fungible tokens, which means they have a unique identity and can't be replicated. This is what makes them so appealing because they can be used as collectibles or digital assets on their own.
The good news is there are many different wallets available on the market right now that allow you to store your NFTs safely and securely. In this blog post we'll look at 6 of the best wallets for storing these new types of assets!
With the rise of NFTs in recent months, many people are looking for the best wallets to store their digital assets. While there are many options out there, we believe that the following wallets are the best of the best in 2022:
1. Enjin
The Enjin Wallet is a free, secure and user-friendly cryptocurrency wallet for all. It supports over 500+ cryptocurrencies and ERC-20 tokens. Enjin Wallet is available on Android and iOS devices, with a web version coming soon! The Enjin Wallet can also be used to store your ERC-721 collectibles such as CryptoKitties or Marbles.
The wallet is perfect for gamers and collectors within the NFT space. It supports collections such as Bored Ape Yacht Club, Mutant Ape Yacht Club, Azuki, Moonbirds, Doodles, and Chain Runners / Chain Runners XR. With this wallet, you can keep all your favorite NFTs in one place and show them off to the world.
2. Trust Wallet
Trust Wallet is a secure, open-source, and decentralized nft wallet. It supports the following tokens: Bitcoin (BTC), Bitcoin Cash (BCH), Ethereum (ETH), Ethereum Classic (ETC), Dash and Zcash. The wallet also features a mobile app that allows you to send or receive crypto assets on your phone.
Trust Wallet is a reliable and user-friendly cryptocurrency wallet that is owned by Binance. While it supports multiple blockchain platforms, including Ethereum, its association with Binance means it is notably biased towards NFTs on the Binance Smart Chain. However, if you are interested in buying, selling, or collecting NFTs on the Binance Smart Chain, Trust Wallet may be the best option for you.
Additionally, Trust Wallet allows you to import old wallets without having to back up your private keys or install any additional software. With more than 10 million active users, you can rest assured that you'll be in good hands using this wallet.
3. My Ether Wallet (MEW)
MyEtherWallet (MEW) is a free, open-source, client-side interface that you can use to generate Ethereum wallets and send transactions. MEW is also a web-based wallet.
If you're looking for a safe and secure way to store your Ethereum coins, My Ether Wallet is a great option. It's a free, open-source wallet that offers a variety of features, including the ability to create multiple wallets, send and receive coins, and view your transaction history.
My Ether Wallet also makes it easy to connect to a variety of Ethereum-based decentralized applications. Overall, I found My Ether Wallet to be a great option for storing my Ethereum coins.
MEW supports ERC20 tokens. It's an HD wallet so your assets aren't stored in the cloud like they are with other wallets. This makes it more secure than other sites that store your private keys online and makes them vulnerable to hackers if their servers get hacked or shut down unexpectedly."
4. MetaMask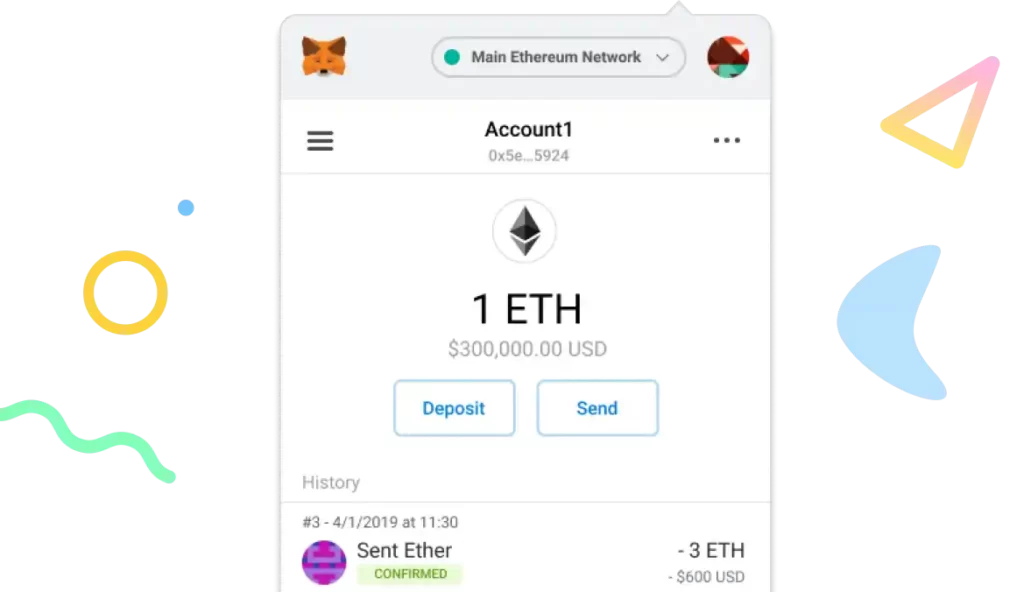 MetaMask is a free, open-source extension for Google Chrome that allows users to run Ethereum dApps without having to run a full Ethereum node. MetaMask includes a secure identity vault, providing a user interface to manage your identities on different sites and sign transactions. You can install MetaMask from the Chrome Web Store.
Because it is a web browser, it can easily connect with non-fungible tokens (NFT) markets and decentralized exchanges. This means the wallet is ideal for easy buying and trading of NFTs as they arise. You can create separate addresses solely for storing your NFTs instead of sharing the address used for cryptocurrency.
You can also create separate addresses for each NFT you own on Metamask, so long as managing them won't be a problem for you. Even though it is a browser plugin, Metamask also offers a mobile version that you sync with the browser to keep your DApps, tokens and NFTs on either platform.
What's more? Metamask also has its own dedicated browser for NFT markets, meaning you can easily switch between these blockchain networks and swap tokens to buy and sell NFTs.
Built by ConsenSys, Metamask also allows users to access Binance Smart Chain, a new blockchain that charges lower fees than others for NFT and other transaction types.
5. Math Wallet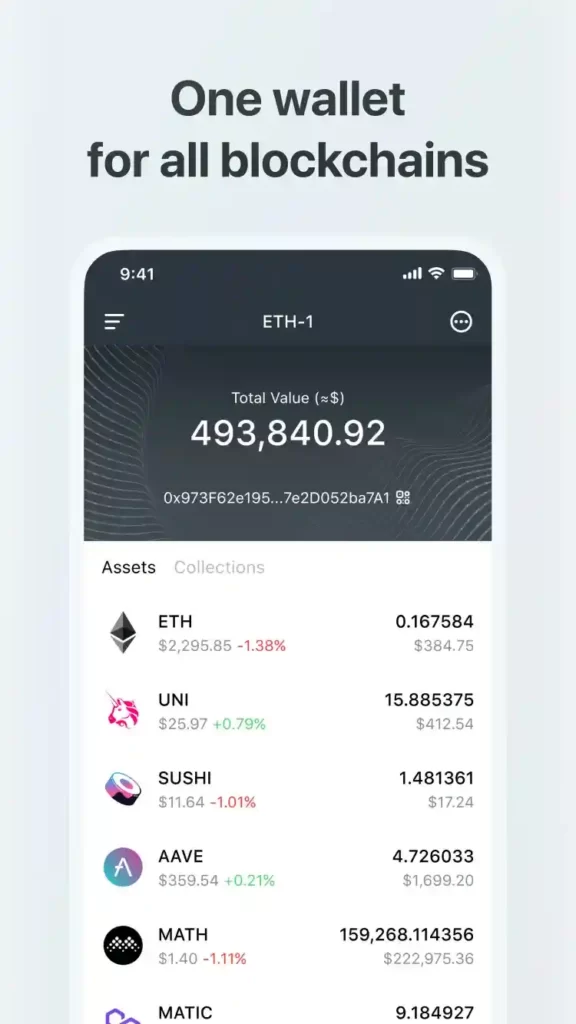 Math Wallet is a secure multi-currency wallet that supports a variety of digital assets, including BTC, ETH, EOS, TRX, ATOM, and more. With Math Wallet, you can easily manage your digital assets on the go, and enjoy the benefits of a secure and convenient wallet.
If you're looking for a full-featured NFT wallet, Math Wallet is one of the best options. The website offers both desktop and mobile apps, as well as an extension for Chrome browsers. It also has a hardware wallet and an open source codebase that allows users to customize their wallets according to their needs.
MathWallet offers two types of accounts: standard (which can be funded with Ethereum) or enhanced (which can be funded with Litecoin). Standard accounts are free but require you to verify your identity using a phone number or email address; enhanced accounts don't require verification because they include this feature automatically!
6. Coinbase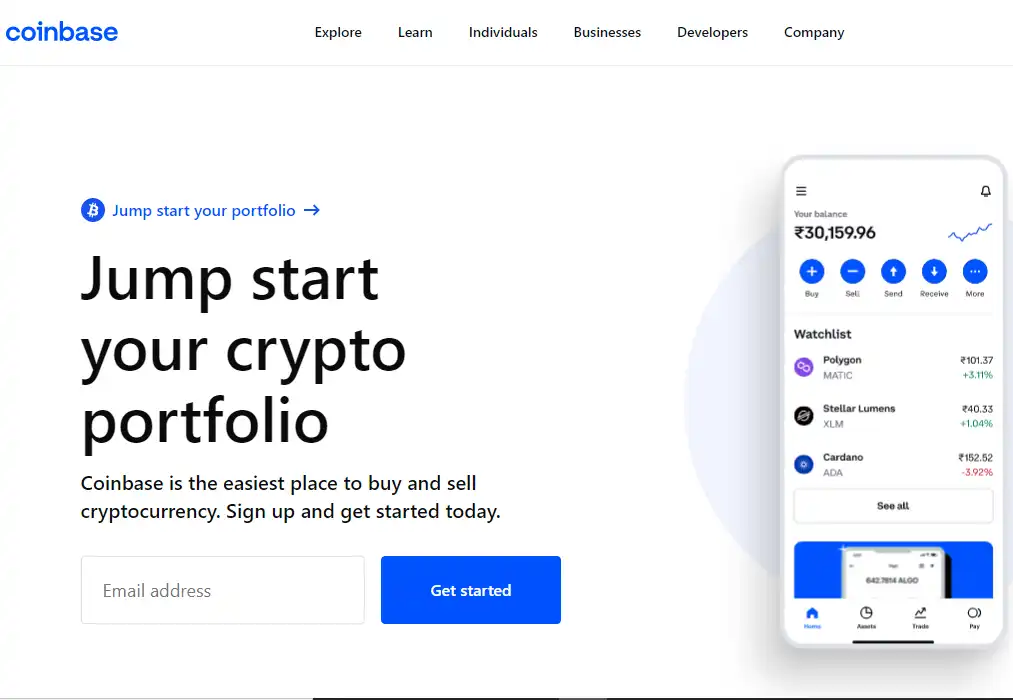 Coinbase Wallet is a mobile Ethereum wallet available on both iOS and Android. It's not a full node wallet or light client, but it can be used as an alternative if you don't want to run your own node. You'll need to download the Coinbase Wallet app from iTunes or Google Play, create an account with them (you'll have to approve their terms of service), then link your bank account so that payments can be made into it.
Coinbase Wallet has an easy-to-use interface which makes it ideal for storing small amounts of NFTs safely offline while still being able to send them via email or other methods of transfer if necessary.
Coinbase allows users to buy and sell digital currencies such as Bitcoin, Ethereum, and Litecoin. Coinbase also allows users to store these digital currencies in a wallet on the Coinbase platform.
Coinbase has been praised for its user-friendly platform and its commitment to security. Coinbase has also been criticized for its high fees and lack of customer support. Overall, Coinbase is a popular and safe platform for buying and selling digital currencies.
Conclusion
We hope you enjoyed reading about our picks for the 10 best nft wallets of all time! Whether you're looking for convenience or security, there is a wallet out there for you. Choose wisely and stay secure!