Benchmarking software is an effective way to measure the performance of your computer. It can be used to test the capabilities of a processor, memory, graphics card and compare their performance figures to those of other PCs.
Benchmarking tools are essential for Windows users to measure the performance of their systems. With the help of these tools, users can easily detect any hardware or software issues that may be causing slowdowns in their system.
In this article, we will explore some of the best free benchmarking software for Windows available in the market today. We will look at their features and use cases to help you decide which one is best suited for your needs. We will also discuss how they can be used to compare different systems and identify potential bottlenecks in your system's performance.
These are the Best Benchmarking Software
1. CPU-Z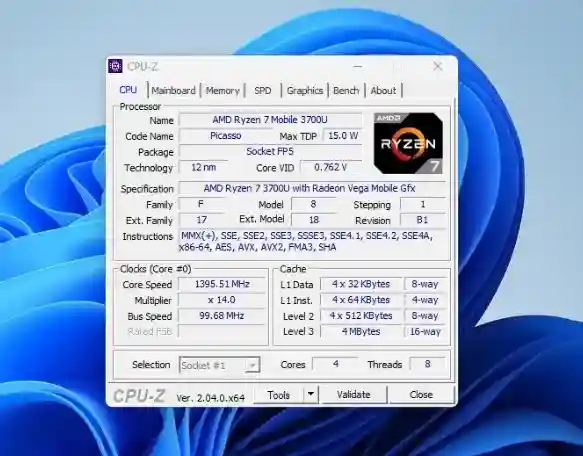 CPU-Z is a free benchmarking application that gives you an in-depth look at your computer's hardware, with a concentration on the CPU. It has the ability to generate reports using either a command-line interface or a graphical user interface (GUI.)
CPU-Z also includes information on motherboards and graphics cards. The application shows you how quickly single- and multi-threaded CPUs can handle data. It is also possible to stress test your CPU. Furthermore, the reports can be exported as TXT or HTML files.
Download: CPU-Z
2. HWMonitor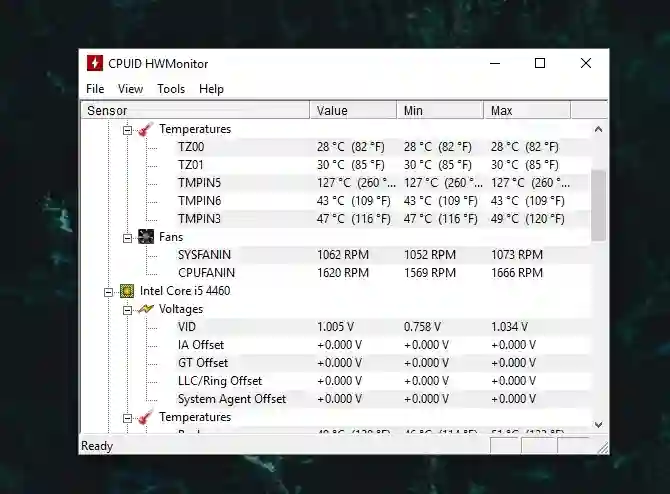 HWMonitor is a computer program that is designed to give users real-time information about the health status and performance of their computer hardware components. This software is compatible with a wide variety of hardware components and can monitor key metrics such as temperatures, voltages, and fan speeds.
HWMonitor also provides users with an easy-to-use interface that displays these metrics in real-time, making it easy for users to quickly identify potential issues or areas of concern. Additionally, HWMonitor provides users with the ability to customize their monitoring settings and create reports, making it a valuable tool for both casual users and professionals alike.
Download: HWMonitor
3. SiSoftware Sandra Lite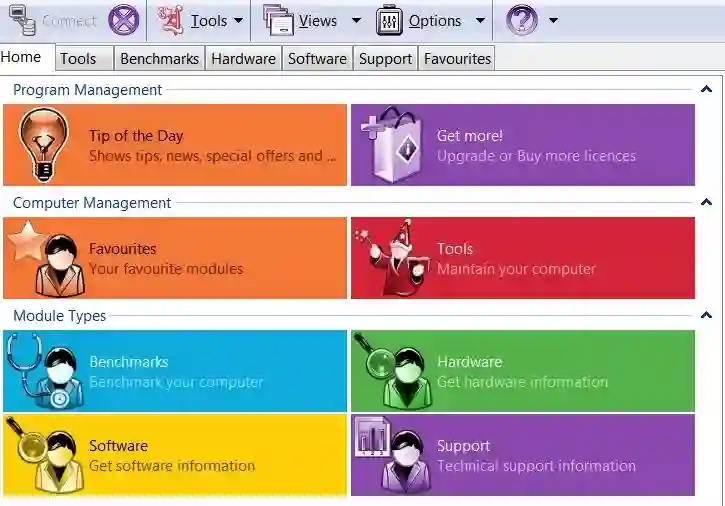 SiSoftware Sandra Lite is a comprehensive benchmark application for running in-depth PC testing. The programme includes a variety of benchmarking tests, including the "Overall Computer Score".
Which measures the performance of your PC. However this test will place significant strain on your system. Sandra also lets you evaluate multiple components by including tests for your processor, network, storage devices, and visual adapter.
Processor Power Management, for example, checks the effectiveness of the processor's power management system. Whereas the Network (LAN) test evaluates data transmission performance to hosts/devices on the local network. The programme can also display hardware and software data from the system.
Download: SiSoftware
4. CineBench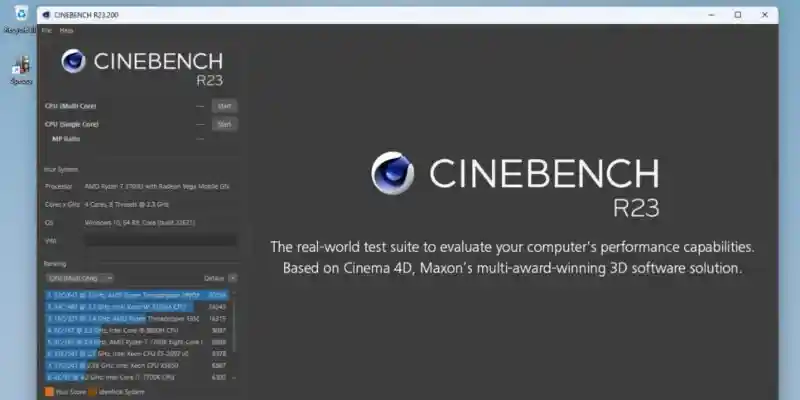 If you need a reliable benchmarking tool, Cinebench is another option. It was the go-to tool for graphical benchmarking for decades. This free GPU benchmark software is an excellent resource. If you want to check the status of your graphics card or just see how your machine performs overall.
Unlike other benchmark tools. Cinebench checks your PC's performance in less than 10 minutes, testing all the processing cores of your CPU as well as your GPU. After that, the program assigns a rating to your system; The higher the rating, the better.
Download: CineBench
5. Speccy
Piriform's Speccy, from the makers of CCleaner is a powerful tool that provides an easy-to-understand overview of a PC's hardware information. This software is especially popular among the gaming community due to its ability to provide detailed breakdowns of every component and most drivers currently installed on a computer.
Upon launching Speccy, the user will immediately have access to a comprehensive breakdown of their PC's hardware. The interface is user-friendly and easy to navigate, with all the information displayed in one window. Users can click on individual parameters on the left side of the window to obtain more information about their specific hardware. This includes temperature, voltage, fan speeds, and much more.
Speccy's ability to provide such detailed information can be incredibly useful for gamers and other power users. Who are looking to optimize their system's performance. By having a clear understanding of their hardware's capabilities and limitations, users can make informed decisions about upgrades, overclocking, and other performance-enhancing measures.
Overall, Speccy is a valuable tool for anyone looking to get a better understanding of their PC's hardware. Its user-friendly interface, comprehensive breakdowns, and detailed information make it a popular choice among gamers and other power users.
Download: Speccy
GPU Benchmarking
GPU benchmarking involves testing the clock speeds, bus speeds, temperature and fan speed of a GPU in order to assess its performance. It's similar to CPU benchmarking, which measures the performance of a processor.
6. Heaven UNIGINE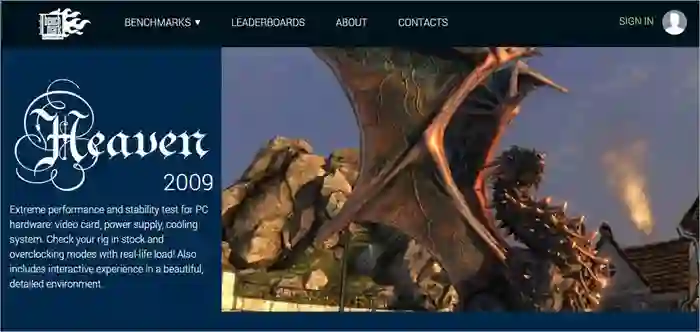 Heaven UNIGINE is a benchmarking tool that is widely used to evaluate the performance of graphics processing units (GPUs) and CPUs. It is developed by UNIGINE Corporation. Heaven UNIGINE is particularly popular among gamers, hardware enthusiasts, and professionals who need to test the capabilities of their computer hardware.
The Heaven UNIGINE benchmark is based on a complex real-time 3D scene that features a variety of visual effects such as dynamic lighting, volumetric clouds, tessellation, and particle systems. The scene is rendered at different levels of detail and quality settings. Which allows users to compare the performance of their GPUs under varying conditions. The benchmark provides a variety of metrics such as average frame rate, minimum and maximum frame rate, and GPU temperature and usage.
Heaven UNIGINE has a number of advantages over other benchmarking tools. One of the most significant is its ability to stress-test the GPU in a way that closely simulates real-world usage scenarios, such as gaming or 3D modeling. This makes it a more reliable and accurate tool for measuring the performance of computer hardware.
Additionally, Heaven UNIGINE is available for free and supports a wide range of platforms and operating systems, including Windows, Linux, and macOS, as well as DirectX and OpenGL APIs.
Download: Heaven UNIGINE
7. MSI Afterburner
The finest live monitoring GPU programme available is MSI Afterburner, which is not specific to MSI graphics cards. Users can monitor their software and overclock it with Afterburner.
Every metric required to monitor graphics card performance is tracked, including clock speed, temperature, RAM utilisation, fan speed, and CPU usage (by core). In order to always start out overclocked, you can save and activate overclock profiles at startup.
Download:MSI Afterburner
8. Geekbench
Geekbench is a cross-platform benchmarking tool that allows users to measure the performance of their computer's processor and memory. It is available for Windows, macOS, Linux, and Android.
Geekbench is a valuable tool for comparing the performance of different computers, or for comparing the performance of the same computer over time. The software features an easy-to-use interface.
Geekbench also provides users with a comprehensive set of results, including detailed information on processor and memory performance.
Download: Geekbench
Conclusion
We hope that you have found this blog article informative and helpful. With this knowledge, we are sure that you can find a benchmark program that will work well with your computer to accurately show how well your components can perform. So what are you waiting for? Try one of the best benchmark programs for Windows today by visiting.
Also Read:
The 5 Best FPS Counter Apps for Windows 11,10