ChatGPT, the AI chatbot created by OpenAI, was released to the public in November 2022 and has become very popular since then. People are sharing amazing creations on social media which they have made using this chatbot.
People from various backgrounds, like jobseekers, coders, teachers and content makers have all found ways to benefit from the tool. It is becoming essential in almost every area of professional life.
As we move closer to the year 2023, more and more alternatives to ChatGPT are emerging. These alternatives offer a wide range of features that allow content writers to create engaging and high-quality content quickly and efficiently.
These ChatGPT alternatives are powered by artificial intelligence (AI) technology which helps them understand the context of conversations, generate relevant content, and even provide personalized suggestions. They can also be used for a variety of use cases such as creating customer service chatbots or generating product descriptions.
In this article, we will discuss some of the best ChatGPT alternatives available in 2023 that could help you create better content faster than ever before.
List Of 7 Best ChatGPT Alternatives
1. Chatsonic
ChatGPT is a popular Artificial Intelligence (AI) tool for generating natural language conversations. It has been used by many businesses to create engaging chatbot experiences.
The innovative technology that powers ChatGPT and Chatsonic is GPT 3.5, making both of them incredibly interesting to use and explore. Chatsonic is a newer system that builds upon the capabilities of ChatGPT, addressing some of its drawbacks.
It provides an extended range of features compared to ChatGPT. ChatGPT's capabilities are impressive but it cannot answer questions such as who will win the 2022 World Cup a question which a person could answer easily. This illustrates how far away AI models are from replacing human intelligence.
ChatGPT's knowledge base is only up to date until 2021. Thus, it is unable to respond to inquiries regarding events that have taken place after this time period.
Unfortunately, ChatGPT is not able to access internet data or the World Wide Web in real-time; this means it can't be easily fed with information about recent events or topics which weren't included in its training data.
Website Link: Chatsonic
2. Jasper Chat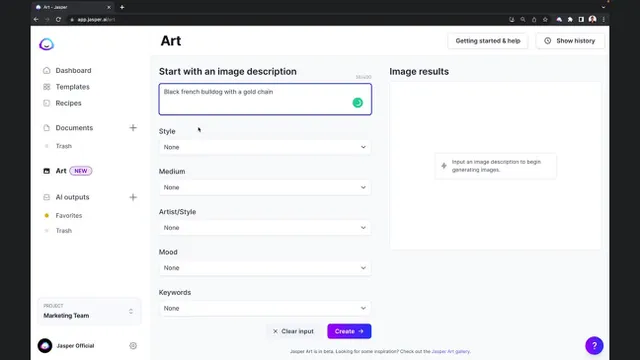 Jasper Chat is a powerful chatbot platform that provides an AI-powered alternative to ChatGPT. It allows users to create intelligent chatbots with natural language processing (NLP) capabilities, enabling them to interact with customers in a more natural way.
It also offers features like automated customer service, sentiment analysis, and real-time analytics. With Jasper Chat, businesses can build and deploy AI-driven chatbots quickly and easily, allowing them to provide better customer service and increase customer engagement.
Additionally, its built-in analytics help businesses track the performance of their bots and optimize them for better results. Jasper chat is based on GPT 3.5 it use same language like Chatgpt. In contrast to ChatGPT, which can be used by anyone, JasperChat has been designed specifically for industries such as advertising and marketing.
Jasper Chat is a great choice for people wanting an AI chatbot like ChatGPT. It has been programmed to understand billions of articles and other pieces of information in 29 languages before mid-2021 which makes it an extremely reliable tool.
AI chatbots are capable of carrying out medium to complex conversations despite not having access to the latest information. You can also easily toggle on Google search data which gives them even more power.
The core Jasper Chat platform is available for free, however, if you want to unlock all its features, you'll need to subscribe for one of the paid plans – Boss or Business. The Boss Plan starts at $59/month and provides access to all their services. You can try it out for yourself through a 5-day trial period.
Website Link: Jasper Chat
3. GPT-3 Playground
GPT-3 Playground, a platform for the public to test OpenAI's GPT-3 Artificial Intelligence model, was released before the viral success of ChatGPT. Although the technology was advanced and powerful, it failed to reach a wider audience due to its difficult user interface and lack of promotional efforts directed at consumers.
GPT-3 Playground is the most popular alternative to ChatGPT, an AI-powered chatbot. it provides a platform for developers to use the GPT-3 language model to create natural language processing applications.
It allows users to customize their applications according to their needs and preferences. GPT-3 Playground also offers a wide range of pre-trained models that can be used for various tasks, such as text generation, conversation simulation, and more.
With its easy-to-use interface, developers can quickly create powerful AI applications without having any prior knowledge of machine learning or natural language processing.
Website Link: GPT-3 Playground
4. YouChat
YouChat is a sleek and colorful chatbot alternative that is neatly interwoven into You.com's search engine, powered by OpenAI's GPT-3.5 AI model. This gives it similar capabilities as other ChatGPT bots, making it a great choice for users who want a reliable and easy-to-use chatbot.
Hence, YouChat has a search engine-like functionality that shows you a list of webpages related to your query. Additionally, you can get replies as if it were a conversation with ChatGPT.
YouChat is an ideal choice for those seeking a combination of a search engine and chatbot in one product. It offers the capabilities of both, which can make your life much easier.
Sadly, YouChat faces certain hurdles due to GPT-3.5, its underlying technology. It is worthy to note that GPT-3.5 or any of the related models are not capable of providing accurate responses for incidents that occurred after 2021 (the date up to it has a comprehensive knowledge base).
Despite the amazing capabilities of ChatGPT, YouChat is still better at responding to more recent queries.
Website Link: YouChat
5. Character AI
Character AI is one of those alternatives that offers powerful features such as automated story generation, natural language processing (NLP), dialogue management, and automated content creation.
It also has an extensive library of characters, scenes, and settings to help you create compelling stories. With ChatGPT alternatives like Character AI, content creators can tap into the power of AI to produce quality results quickly.
The home page of this AI features a wide array of characters from all walks of life, from Elon Musk and Tony Stark to Socrates and Joe Biden, Kanye West. Moreover, the AI has the ability to adjust its conversation style according to the character chosen.
In comparison to Kanye, having a conversation with Socrates was surprisingly serene. Furthermore, Character AI has a feature that takes in voice inputs and replies with various voices depending on the character they are representing.
It's very fun to create a character for yourself, as you get to choose everything from their name, greeting, voice and physical description to their avatar. It's an excellent way to add some personality and individuality to your project.
AI programs are equipped with an image generator to let you create your own avatars. You can then instantly get started conversing and even share these avatars with friends and family.
Website Link: Character AI
Other Best Ai Writers Tools
As mentioned before, ChatGPT has some great alternatives you may consider. We have also listed down other interesting AI-powered chatbot solutions and services that you should check out. Take a look below to find one that suits your needs the best.
1. Rytr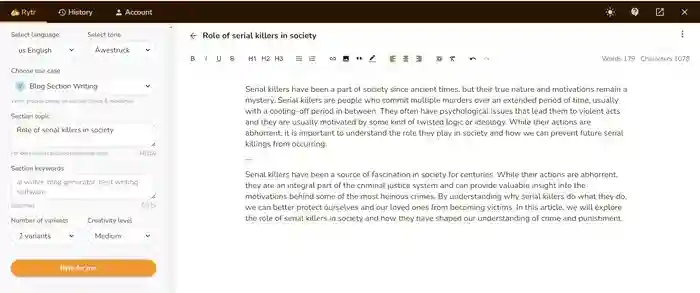 Rytr is a revolutionary AI-powered writing assistant that helps copywriters and content writers to generate high-quality content quickly. It uses advanced natural language processing (NLP) technology to identify the writer's intent and provide relevant suggestions that help to improve the quality of their work.
Rytr has a variety of features, such as keyword suggestion, grammar and style correction, sentence structure analysis, and more.
It also provides writers with insights into their writing style so they can make improvements where needed. With Rytr's help, copywriters can save time while producing high-quality content for their clients.
Rytr offers a wide variety of use cases and tones with the ability to write in more than 30 languages, including world's most popular ones. It is the perfect tool for those who need English as well as non-English content.
According to Rytr, the content generated by their system requires minimal editing, resulting in a flawless end-product. To further enhance user-experience, Rytr also has an SEO analyzer and features like WordPress plugins andChrome extension.
Website Link: Rytr
2. PepperType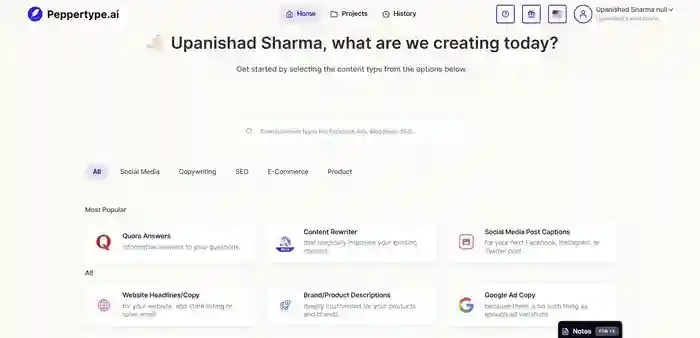 PepperType is a another revolutionary AI writing assistant that helps copywriters and content writers save time and energy on creating content. It is an AI-powered tool that can generate high-quality content from scratch, allowing copywriters to focus on their creativity and emotion.
PepperType features a wide range of tools for copywriters, such as auto-complete, grammar checker, auto-summarize, rewriter and more. It also offers advanced features like sentiment analysis, keyword extraction, and topic clustering to help make sure that the generated content is relevant to the needs of the user. With PepperType, copywriters can create engaging content quickly and efficiently.
The website has been designed in a user-friendly manner to make it easy for users to browse through various categories. Additionally, Peppertype covers 25+ languages which adds to its versatility and allows it to reach out to more people.
Peppertype offers a free plan that allows you to create content up to 5,000 words. There are a variety of plans available, including the Starter plan. Which starts from $25 per month and expands the limit up to 50,000 words.
Website Link: Pappertype
3. Socratic AI
The app focuses on using the camera to visually provide solutions to all types of problems. All you need to do is upload a photo of your homework, select your question, and crop the image.
Socratic looks up the answer and provides a solution in mere seconds. Don't worry if you don't feel like taking photos; this AI app also supports microphone and text input.
Although I'm not a math genius, I looked up a few difficult equations and was pleased to find that Socratic solved them all efficiently and worked well. However, it's not just limited to math; the AI can also take written questions and provide real-world answers quickly.
Website Link: Socratic AI
Also Read:
What is Post Quantum Cryptography – Research
Everything about Trojan You Need to Know
Explaining ATM Jackpotting – What You Need to Know