Looking for the best PDF reader apps for Android? With the increasing demand for digital documents, it is important to have a reliable and efficient PDF reader. There are many different PDF reader apps available on the Google Play Store, but some of them stand out from the rest.
In this article, we will discuss some of the best PDF Reader Apps For Android that you can use to read and edit your PDF documents with ease. We will also discuss their features, usability and compatibility with other devices.
1. Google PDF Viewer
Google PDF Viewer is one of the best apps to read PDF books. It's a free, lightweight app that provides a convenient way to read, search, print and share your PDFs. With Google PDF Viewer, you can view any type of PDF document quickly and easily.
Google previously had a dedicated PDF viewer available but no longer does. Instead, users need to download it from APK to use it. It is light weight and provides only basic features you need to view PDF files. You can also customize the text size and page layout for a more comfortable reading experience.
Additionally, it also allows you to highlight important passages in your book and save them for later reference. With its intuitive user interface and powerful features, Google PDF Viewer is the perfect app for reading pdf books on the go!
Download: Google PDF Viewer
2. Adobe Acrobat Reader
Adobe Acrobat Reader is a popular tool used by individuals and businesses alike to work with documents in the Portable Document Format (PDF). It is used to view, download, print, sign, and comment on documents in a secure and reliable manner. Acrobat Reader is essential to the modern-day workflow, allowing users to access and exchange information quickly and easily.
In addition to PDFs, Acrobat Reader also supports other file types such as Microsoft Office documents, CAD files, and images. It also offers a number of features including editing, annotation, and digital signature capabilities, which make it an indispensable part of many organizations' document management systems. Acrobat Reader also allows for the secure distribution of documents, as documents can be password-protected to ensure only authorized users can access them.
Overall, Adobe Acrobat Reader is an invaluable tool for anyone needing to access and manipulate PDF documents. Its features and compatibility with other file types make it a must-have for businesses and individuals alike. With its streamlined interface, users can quickly access and work with files in a secure manner, without having to worry about security breaches or compatibility issues.
3. Xodo PDF Reader
Xodo PDF Reader is a useful, free tool for reading, annotating, and managing PDF documents across devices. It allows users to open multiple PDFs simultaneously, view and interact with comments, customize page display with the fit-to-width and night mode features, and use the integrated Cloud storage to easily access documents.
With its powerful annotation and commenting system, Xodo PDF Reader makes it easy to add notes, mark up text, and highlight important sections. It also comes built-in with a powerful search engine, ensuring users will always find the document they need. Xodo PDF Reader is an essential tool for anyone who regularly works with PDF documents.
4. Read All PDF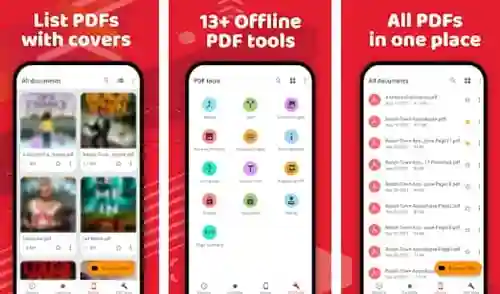 This PDF Reader App is an incredibly useful tool for anyone who is regularly working with different PDF documents. It is a free, cross-platform program that allows you to quickly and easily open, view and manipulate PDF documents.
The app has a wide range of features, including the ability to zoom, search, highlight and add annotation to your documents. It also provides a range of security features such as password protection, document signing, and encryption to ensure your documents are as secure as possible.
PDF Reader App is an invaluable tool for anyone who needs to access, store, and share PDF documents quickly and effectively.
5. Foxit PDF Reader
Foxit PDF Reader Mobile is a free and powerful mobile PDF reader app that allows you to view and annotate PDF files on the go. It is available for both iOS and Android devices, and is highly rated by users for its simple yet powerful features. With Foxit PDF Reader Mobile, you can easily read, annotate, and share PDFs from your device.
It allowing you to make notes, highlight text, add shapes, and draw free form lines on your PDF files. It also supports cloud storage services such as Dropbox, providing the ability to easily store and share PDFs in the cloud.
Integration with popular apps like Evernote is also available, allowing you to easily keep track of your PDFs. The user interface is simple and intuitive, making it easy to access all of the features of Foxit PDF Reader Mobile.
There are also a number of advanced features available, such as PDF encryption and password protection, text extraction, and redaction. With these features, you can easily keep your PDFs secure, extract text from them, and hide or remove sensitive information.
Foxit PDF Reader Mobile is available for both iOS and Android devices, and is highly rated by users for its powerful features and convenience.
Also Read:
The Best QR Code Reader and Scanner for Android & iOS
The Best Laptops For Graphic Design In 2023
7 Backup Apps for Android Devices