There is a huge number of free and paid screen recording apps in Windows 10. Many of them are super useful, while some are not so user-friendly. It's not easy to find the best free or paid Screen Recorder for Windows 10 unless you know where to look.
In this article, we will discuss some of the best tools available to record videos on your PC in Windows 10. These programs can be used individually or together to create the ultimate video recorder for your needs. Let's take a look at what they have to offer.
1. Open Broadcaster Software (OBS)
Open Broadcaster Software (OBS) is a free and open-source software for video recording and live streaming. It is available for Windows, macOS and Linux. The software works with most capture cards, audio devices, streaming services such as Twitch or YouTube Live, and more
Open Broadcaster Software is a free and open source computer application for high-quality audio and video broadcasting. It is a powerful tool that allows users to capture screenshots from any device and record videos from any source.
Its most significant feature combines streams of multiple sources into one output file. You can overlay multiple images, text, and even embedded browser tabs onto each other. You can also apply filters and effects to customize your look. Open Broadcaster Software is not only a screen recording software.
In addition, it offers live streaming services that let users upload their screen captures to popular streaming sites such as Twitch, YouTube, and others. OBS Studio performs these tasks in real-time without noticeable lag or performance hits.
The OBS virtual camera lets you use the output from screen captures as a webcam video input for other applications like Discord, Zoom, Skype, and so on. You can also use it to stream to multiple platforms simultaneously.
OBS Studio allows users to adjust the video quality, set the bit rate, and select an encoder. Consequently, you can balance performance and quality between various devices. Users can choose a video renderer, set the output video resolution, and choose a video codec.
Download: OBS Studio
2. Bandicam Screen Recorder
Bandicam is an excellent screen recorder for capturing highly compressed videos while preserving the original video quality. It can capture HD videos from your computer screen, smartphone, tablet, game console, and much more.
Bandicam can record games and HDMI devices, too. With Bandicam, you can easily create high-quality videos without any complicated settings. You can also edit your videos using Bandicam's built-in editor.
Bandicam supports both Windows and Mac OS platforms. It comes with a free trial version, but if you want to remove the watermark, you must purchase the full version.
Download: Bandicam
3. Filmora Screen Recorder
Filmora Screen Recording's highlight feature offers three capture modes. The Full-Screen mode captures the entire screen as it displays. In contrast, the Target Window mode lets you specify a particular window within any application.
Finally, the Custom mode allows you to use a customizable boundary box to record specific areas of the screen while excluding everything else. Filmora also includes a number of useful video editing tools.
These include Motion Tracking, Keyframing, Audio Beat Sync, and Green Screening. As part of the Filmoria software suite, the screen recording tool comes with several powerful video editing capabilities. Users can edit videos without having to leave the program.
Download: Filmora Screen Recorder
4. Streamlabs Screen Recorder
Streamlabs is a free, all-in-one software for screen recording, live streaming, and data backup. It is also open source; you can find the source code on Github. Streamlabs is a fully featured software with video editing and audio mixing capabilities.
If you're looking for a powerful and easy-to-use live streaming and recording software, Streamlabs is a great option. It offers a wide range of features and customization options, making it a very versatile tool.
The user interface is clean and intuitive, and the software is stable and reliable. Overall, Streamlabs is an excellent choice for live streaming and recording, and we highly recommend it.
Download: Streamlabs
5. Xbox Game Bar
The Xbox Game Bar is a toolbar that allows gamers to quickly access various Xbox features and settings while playing a game. One of the most useful features of the Game Bar is the ability to record your gameplay.
To record your gameplay with the Xbox Game Bar, simply press the Windows key + G to bring up the Game Bar. Then, click the "Record" button to start recording. You can stop the recording at any time by clicking the "Stop" button.
The recorded gameplay will be saved as a video file on your computer. You can access the recorded gameplay by opening the Xbox App and going to the "Game DVR" tab. From there, you can watch, edit, or share the recorded gameplay.
Download: Xbox Game Bar
6. CamStudio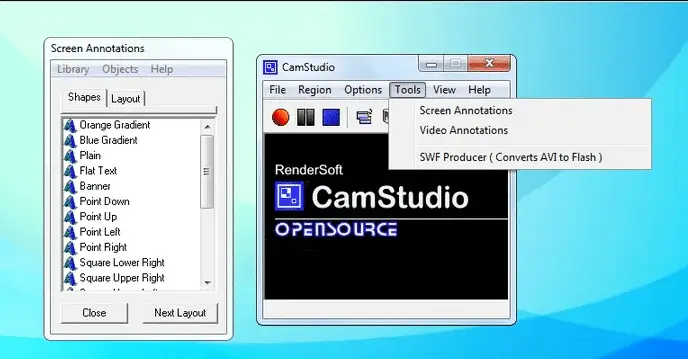 CamStudio is a screen recording program that allows you to record your screen activity and save it as a video file. It's easy to use and has a lot of features.
You can use CamStudio to create video tutorials, product demonstrations, and educational videos. CamStudio is a free and open source program.
CamStudio is a powerful program that records your computer screen in AVI format, which can be later be converted to SWF. The recordings made by CamStudio are of a small file size, making it easy to share your videos with others.
In addition to being able to record your screen, CamStudio also offers the ability to customize your cursors and record webcam and microphone footage. This makes it a versatile tool for creating high-quality videos.
Download : CamStudio
Conclusion
Hopefully, this article will help you choose the best screen recorder for your windows operating system. We have provided you the list of top 10 best screen recorders for Windows 10,11 in 2022. You can use any one of them and get the best results.
If you want to know more about these software then please feel free to comment below and let me know what do you think about it or how I can improve my blog? Leave your valuable feedback for me so that I can give an answer as soon as possible. Thank You!