Driver Fixers are smart utilities that fix any driver problems in your system. These apps download and install missing or outdated drivers on your system, thus improving its stability and performance. They also solve some of the most common problems faced by Windows operating system.
These software help you fix driver problems on the fly without the manual chore of finding or identifying the missing or outdated drivers in your system, then finding them over the Internet and downloading and installing them one by one. Driver Fixers make it easy for you to keep your system up-to-date and running smoothly!
So if you're looking for an easy and efficient way to keep your PC's drivers up-to-date, using a device driver updater app is the way to go!
We understand that finding the right device driver updater tool can be challenging, so we've put together a list of the top-rated paid and open-source tools to help you make the best decision for your needs. All of the tools on our list include popular features and the latest download links.
Best Free Driver Installer Software for Windows
1. Driver Talent
Driver Talent is a driver solution that quickly and easily finds compatible drivers for your PC and installs them. It also updates your system drivers to the latest versions, keeping your system running smoothly.
Unlike some of its competitors, it displays the driver size, release date and version number so you can be sure you're downloading the right drivers. Additionally, it supports all versions of Windows
2. Driver Easy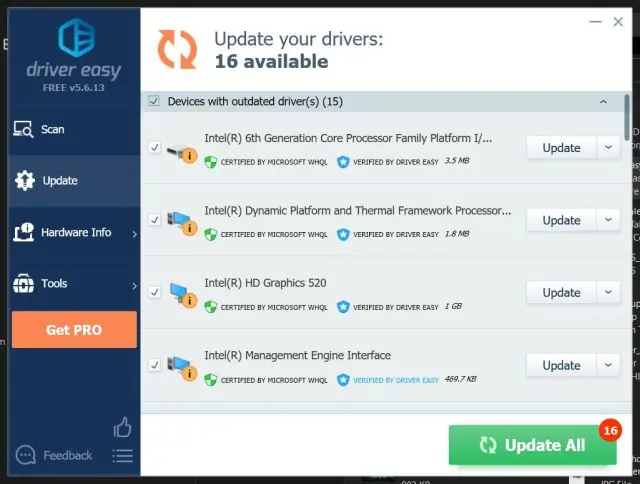 Driver Easy is a software application that allows its users to locate, download and install the latest drivers for their computer hardware automatically. The installation process is also automated, with the user only needing to click on "Next" during each step.
The Driver Easy Review makes it easy for anyone to install all of the drivers they need without any sort of technical knowledge. It can find driver updates that are available automatically, download them and install them without interrupting your work. This saves people time and hassle when it comes to installing drivers on their computer themselves.
The application used a driver database which contains static driver packages and new releases of drivers from manufacturers like AMD and Nvidia for Windows 10, 8/8.1 & 7 operating systems at launch date.
Drivers are stored in a centralized database which includes information about the original release date, package size as well as obsolete or junk drivers which have been replaced by newer versions. DriverEasy guarantees that
3. IObit Driver Booster
Driver Booster is a software that comes with two different plans, a free version, and a paid version. The free version of Driver Booster has a driver database of over 3.5 million and allows you to update or install drivers with just one click.
With the paid version, you get more features like priority customer support, automatic driver updates, and more. The software is quick to get your drivers installed, and it's easy to use.
The Pro version of Driver Booster comes with some great benefits, including increased download speed and access to a database of over 4.5 million drivers.
Automatic updates and backups are included, making it a great choice for anyone who needs these features. And if you're looking for game components, hardware fixes, or tech support, the Pro version is definitely the way to go.
4. DriverMax
DriverMax is a driver-updating tool that scans your PC for missing, corrupted, or outdated drivers and exports them to avoid mixing or clashing with the new ones. The tool supports Windows XP up to Windows 10.
This program not only updates old drivers, but can also back up some or all of the currently installed drivers. It can also restore backed up drivers, roll back drivers, identify unknown hardware, create a system restore point before driver installations, build an offline scan file for PCs without a network connection, and run automatic scans on a schedule.
5. DriverPack Solution
DriverPack Solution is an excellent program that offers a simple interface and automatically detects and updates any outdated drivers in your system, which saves you a great deal of time and hassle. This program is especially useful if you're running Windows XP or higher.
6. Bit Driver Updater
If you're looking for a software that can help prevent Windows from crashing due to misconfigured drivers, Bit Driver Updater is a solid option. With Bit Driver Updater, you can choose between the free and Pro versions.
With the free version of the software, you have access to most of its features. With one click, Bit Driver Updater can scan your computer for any driver issues. Once it's done scanning, you can verify the driver information and install them individually.
Bit Driver Updater is a great tool because it automatically backs up all of your drivers before beginning the update process – which is a useful feature that's missing from some of the other free versions of driver updaters.
Although Bit Driver Updater only lets you backup your drivers one-by-one, this shouldn't be a problem because the process is quick and easy.
7. Driver Genius
The Driver Genius software follows a similar pattern to the other programs on this list, though it offers three different versions of the software.
With the free version of the software, you can update outdated drivers in one click, though this feature is only available for a limited time. You can also easily back up your drivers with the free version of the software.
In addition, the free version includes a few other features, such as cleaning up useless drivers after updating and detecting hardware information. The software works lightning fast, though in our testing we found that it missed some drivers that the other programs on this list did not.
Read Also:
The 5 Best Ways to Restart Windows 10 in 2022
How to Password Protect a Folder In Windows (2022)
Before clicking any suspicious link 7 Sites to Check If A Link is Safe