It can be tough to tell whether links sent to you via email are safe. Whether the email is from a friend or a stranger.
One of the most serious security threats faced by businesses today is ransomware. This type of malware is often spread through email, social media, and instant messaging, when people click on links that seem safe but are actually malicious. Phishing sites are another major risk, as they can trick people into revealing sensitive information or downloading dangerous software.
There's no doubt that you should always be cautious about the links you click on and the websites you visit. But it's also helpful to have some tools at your disposal to check if a link is safe. Here are a few to get you started.
what does link checker do?
There are two types of URL:
A URL typically consists of www, the website name, and a top-level domain such as .com.
A shortened URL, such as goo.gl/V5jhrx.
Shortened or not, if a link is dangerous, a link checker will let you know. If the links are leading to a website that's been compromised, the link checker will flag it right away. Also, links that go directly to malware, ransomware, and other risks should be reported by these tools.
These safe link checker sites can help you discover if any dodgy links are hiding in your content. To get the most reliable results, check more than one site at a time.
To check a URL for malware, go to Norton Safe Web and paste the URL into the checking field. After clicking the search button, you will be able to see a rating as well as reviews from the community about the website. If you want to add your own voice, create an account and join the community of link checkers.
In addition to its browser-based link checker, Norton Safe Web offers two other tools.
Norton Safe Search Extension is designed to help you quickly and easily access safe search results from your browser. With this extension, you can simply type in a search term and see results from Norton Safe Search, which can help you avoid potential threats online.
Norton's Home Page Extension makes your search engine results safer by cross-referencing them against Norton's database of malicious sites.
Both options will give you the green light before you click on any links, making for a safer browsing experience.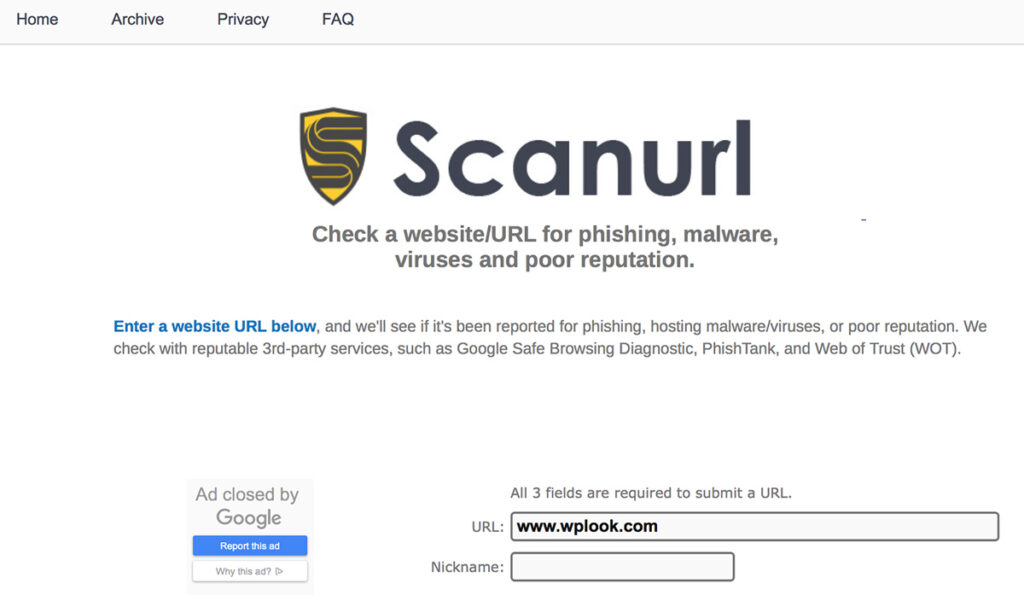 ScanURL is yet another excellent option to keep in mind when looking for a reliable link checking tool. What sets this website apart is its commitment to security, ensuring all submissions are made via a secure HTTPS connection. Additionally, while supported by ads, the results provided are still accurate and helpful. Another great feature of ScanURL is that users can explain where they found the URL in question, thus helping others avoid accidentally clicking on dangerous links.
This tool also polls Google Safe Browsing Diagnostic, PhishTank, and Web of Trust to gather information about the site being queried. The returned results will let you know whether it's safe to visit the site and will also include a ScanURL recommendation.
Avoid the site if the results list it as dangerous.
Once you've used ScanURL and the results have loaded, you'll be given a URL that you can use to share the results with other people. This is handy if you want to let your friends and family know that you've checked a site and found it to be safe.
Unlike other sites that focus on malware, PhishTank instead allows users to gauge whether a given link is safe. This is accomplished by letting users submit and vote on whether a given link leads to a phishing site.
When you enter a URL into PhishTank, it will check to see if the site is safe. If the link is already in the database, you'll get instant results. Otherwise, the site will provide a tracking number. PhishTank is a valuable resource when checking if a link is safe, as it can help prevent you from accidentally clicking on a phishing site and divulging personal information.
PhishTank is a site where users can submit and verify links that have been submitted by other users. The site is operated by OpenDNS.
Google's Transparency Report service is a great way to check if the URL you're concerned about is safe. All you have to do is enter the URL into the standard field and wait a few seconds. Google's web crawlers will then tell you if the site can be trusted.
When you visit a website, you might worry about accidentally downloading malware. But did you know that phishing is actually a greater concern than malware? Phishing is when a website tries to steal your personal information. So it's important to make sure that the site you're visiting is safe. Google Transparency Report can help you identify phishing risks.
Offering a browser-based multi-function scanning tool, VirusTotal is a great resource for those looking to analyze "suspicious files and URLs for malware. The results of the scans are then shared with the online security community, which can be incredibly helpful in identifying potential threats. To use VirusTotal, simply visit the site, click URL, then paste the link in and search.
VirusTotal is a simple tool that can check the safety of links on Android and Windows devices. It is quick and easy to use, and it provides instant results.
For developers, VirusTotal has both public and private APIs. While commercial use is limited, these can be used to create a file and link scanning tool on your website.
The dfndr lab tool from PSafe is really easy to use – just copy and paste the URL you're wondering about into the search bar. Click 'Check URL' and you'll see the results right away.
If you come across a site that isn't in the dfndr lab database, it doesn't necessarily mean that it's untrustworthy. However, if you're not confident in the URL or website, it's best to exercise caution and not click on it. dfndr lab uses machine learning to detect potentially unsafe URLs. In addition, links are cross-referenced with suspect URLs from other resources, while in-house analysis is carried out if the other tests prove inconclusive.
URLVoid is a great tool for detecting potentially malicious websites. Simply input the suspect URL and wait for the site to check it. You'll find information about the URL and its history, any black ticks against it, and where the site is based if that information has been made public. A list of services that URLVoid uses to generate its results is also displayed, with famous names including Avira, BitDefender, and PhishTank among them.
If you need to scan an IP address, URLVoid offers a companion service,IPVoid. URLVoid also provides APIvoid for developers so you can create your own link safety checker.
Conclusion –
There are a number of sites that will protect you against link-based security threats, including malware, ransomware, and spoof emails and websites designed to phish for your personal information. By keeping your eye on these sites, you can help keep yourself safe from a variety of online dangers.
Related –