Want to know how to delete a Gmail Account? In this article, I'll show you how to delete a Gmail account. The process is slightly unique for desktop and mobile users so I've prepared a separate step-to-step guide for each device.
You will no longer be able to use your Gmail address to send or receive emails after deleting it. All of your emails and account settings will also be wiped away. There is no way to use your Gmail address in the future, and it will not be available for anyone else to use.
How to delete your Gmail account
If you're looking for a step-by-step guide on how to delete your Gmail account permanently, look no further – we've got you covered. Whether you're using Windows or macOS, all you need is a browser to follow the steps below. For those wondering how to delete a Gmail account on mobile, there are separate guides further down.
1. Go To your Google account settings, click on the profile icon in the top-right corner and select "Manage your Google Account."
2. Select "Data & privacy."
3. From Download or delete your data section, Choose "Delete a Google service."  enter your Gmail account password for verification.
4. Click the Trash icon beside "Gmail." You can also click "DOWNLOAD DATA" to copy your messages, attachments, and user settings.
5. Enter an email that isn't Gmail to link with the rest of your Google services. Then, click "SEND VERIFICATION EMAIL."
Login to the non-Gmail account and open the verification email. Click on the link.
At the bottom of the message, check the box and choose "DELETE GMAIL."
How to delete a Gmail account on Android phone
To delete your Gmail account on Android, simply follow the same steps as outlined above for deleting a Gmail account on a computer.
1. Open your Phone's Settings and scroll down to Google.
2. Select "Manage your Google account". Then Under Data & personalization, choose "Delete a service or your account."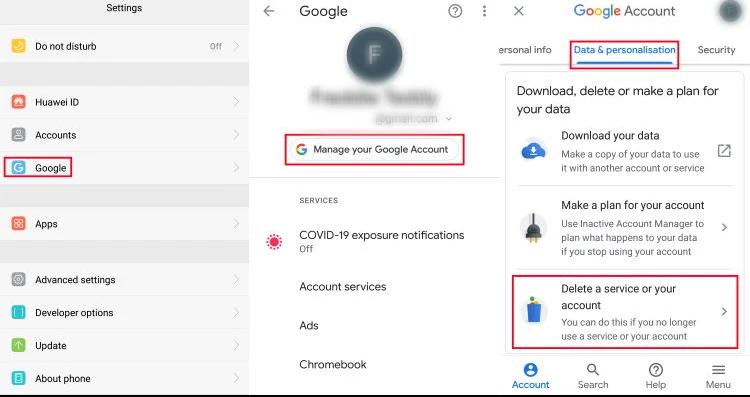 3. Click "Delete a service" and then Select the Trash bin besides your Gmail account. To delete your account
How to recover deleted Gmail account?
If you regret deleting your Gmail account, there is still a possibility that you can recover it. However, the sooner you act, the better your chances are of recovering your data. To try to recover your Gmail account, follow the steps below:
1. Go to the Google recovery page. then Enter the email address that you want to recover and click "Next."
2. If you get the message that your Gmail account does not exist, then there is no chance to recover your account, but if you get the message to enter the last password of your Gmail account that you remember, then your account gets a chance to recover.
3. If you have entered the correct password, you will see a success message. You can now continue to your Google Account.
4. Click the "Google apps" icon at the top-right of the screen, next to your Google Account icon. Select "Gmail", add your phone number in the required field (you will need it for verification), and click "Submit".
5. Choose your verification method. Enter the verification code that you've just received via SMS or phone call. Congratulations, you've got your Gmail account back!
Read Also:
How to Enable Dark Mode in Snapchat
Chek Maximum RAM Capacity of Your Pc
How to Delete Your Reddit Account And Why You Should