Driver are essential for a computer to perform optimally. Without the right drivers, the hardware components of a computer may not be able to communicate with the operating system correctly.
This can lead to system crashes, slowdowns, and other issues. To ensure that your Windows PC is running smoothly and efficiently. You should use one of the best free driver updaters available on the market today. These driver updaters will automatically scan your system for outdated drivers and update them with the latest versions available from their respective manufacturers.
With these driver updaters, you can keep your Windows PC running at its peak performance level without having to manually search for new drivers yourself.
7 Best Driver Updater Tool for Windows
Searching for the best Windows driver updater that is free? The following are some suggestions that you will absolutely find to be very helpful. Keep your Windows PC up-to-date with this best driver updater tools!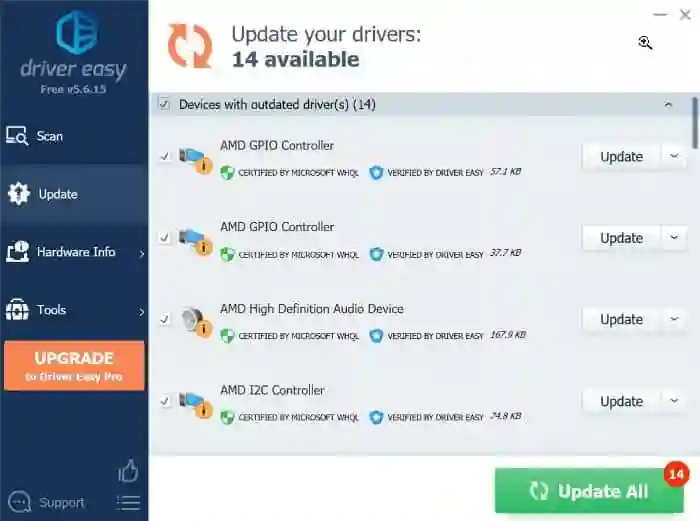 If you're looking for an easy way to keep your drivers up to date, look no further than Driver Easy. With Driver Easy, you can scan your computer for outdated drivers and update them with just a few clicks.
It's fast, simple, and best of all. It's free. So why wait? Get started today and see how easy it is to keep your drivers up to date. It is a completely legitimate and safe tool that you can use to find updated driver versions for your computer and download them in one go.
Driver Easy has a large database of device drivers, so you will never have to search for compatible drivers to replace outdated or missing drivers on your computer.
Download: Driver Easy
2. Driver Talent
Driver Talent is a professional and easy-to-use driver update and management software which can help you scan your computer, detect all drivers that need updating. And then download and install them in one go. This saves you the trouble of having to manually update each driver individually, and ensures that all your drivers are always up to date.
This application not only updates outdated and missing drivers, but also fixes corrupted ones and backs up all your installed drivers. A Peripheral Drivers area of the program calls out printer and USB drivers, telling you very clearly if they're installed and working normally. This way, you can be sure you're getting the right driver before you download it.
Before you download a driver, you can see its size, release date, and version number. This way, you can be sure you're getting the right driver. There is also an alternative version that includes network drivers and works offline. This is perfect if you need to install drivers but don't have the proper network driver installed.
Finally, there is a basic hardware information utility that you can access from the program's Tools menu. This utility works with Windows 11, Windows 10, Windows 8, Windows 7, Windows Vista, and Windows XP.
Download: Driver Talent
3. Driver Booster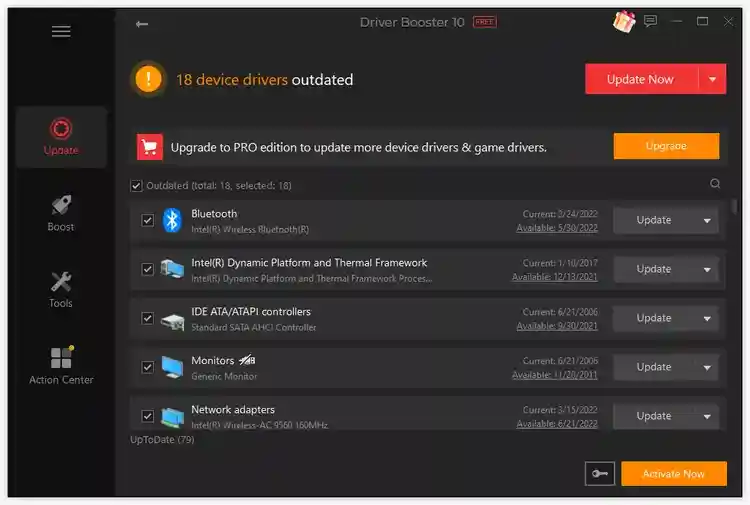 Driver Booster is a driver update software from IOBit, which helps to keep device drivers up to date. It scans and identifies outdated drivers automatically and downloads and installs the latest versions. It also helps to reduce system freezes and crashes for better performance.
The software also has a feature that helps to restore the backup of missing and damaged drivers from the backup list. It supports over 6.5 Million+ drivers and game components from Intel, AMD, NVIDIA, etc., for optimized gaming performance. Driver Booster also comes with a feature called Game Boost, which helps to boost game performance. It optimizes the processes thereby freeing up RAM, which allows the games to run faster and smoother.
It also helps to block unwanted background programs to improve gaming performance. The software also comes with several advanced tools like Driver Uninstaller, which helps to uninstall drivers easily and safely, and Driver Rollback, which helps to quickly restore drivers to their earlier versions in case of any issues.
Apart from its driver updating function, Driver Booster also helps to protect the system from malicious programs by providing real-time protection. It scans the system periodically and helps to identify and block malicious threats before they cause damage to the system. It also helps to optimize the system for better gaming performance and speed.
Driver Booster is a comprehensive driver update and optimizer software with an intuitive user interface. It helps to keep device drivers and game components up to date without any hassle. It also helps to protect the system from malicious programs and provides several advanced tools for optimized performance.
Download: Driver Booster
4. DriversCloud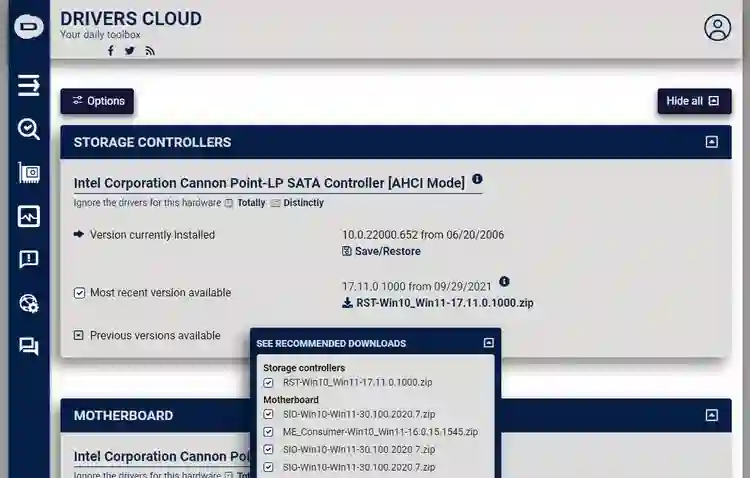 DriversCloud (previously known Ma-Config) is a free web service that searches for detailed information about your hardware and software, including outdated drivers.
After installing and opening the application, navigate to Advanced Detection > Online Detection > Start Detection to identify all components and drivers on your computer. After the scan is finished, all the findings are displayed in your web browser.
Select Find all my drivers from the menu, then check out my most current drivers on that page to get you where you need to go. Once you navigate to the page of drivers, you will find an option labelled 'See Recommended Downloads'.
We strongly suggest utilizing this as it offers a single executable that you can launch to install all the drivers you selected from the page. Alternatively, you can opt for the manual download and installation process that requires you to download and install each driver update separately.
Download: DriversCloud
5. Driver Identifier
When you notice that any hardware device or component is not working properly, it is likely that your computer's drivers are out of date/damaged/missing. In situations like this, programs like DriverIdentifier should be your preferred tool as they allow you to easily find and install the appropriate drivers for your computer hardware components.
DriverIdentifier is a free and easy-to-use program that gives you access to over 27 million downloadable drivers for your devices. It simply searches for updates for both existing and missing drivers on your computer. Allowing users to install them with a single tap.
Unlike most other driver updater applications for Windows that we've covered in this post, this one takes you to another download page. Where you can choose which drivers to install instead of downloading them directly from the program. Is.
As a result, this lengthens the process of upgrading drivers on your computer instead of shortening it. On the other hand, the download page provides useful information about the driver you want to download so you know what you're getting into. It includes exciting features, such as the ability to work offline and as a portable program via USB. Plus, it doesn't install malware or bloatware, keeping it secure.
Download: Driver Identifier
6. Advanced Driver Updater
Advanced Driver Updater is a powerful software program that helps users keep their computer hardware drivers up to date. It scans the system for outdated drivers, downloads the latest versions, and installs them automatically.
With this tool, users can ensure that their hardware is running optimally and that they are getting the most out of their systems. It also provides an easy way to restore and backup drivers, and it can even help keep system settings optimized.
It contains a free version with less functionality, but to get the most out of the application, you may need to purchase the premium version. You may use this driver updater tool to schedule when it should scan your computer's drivers for updates.
It, like the most of the driver updater tools on our list, offers a driver backup option in case a driver update causes a problem and you need to revert to the previous drivers you were using. It's like most of the driver updater tools on our list. It provides a driver backup option. If a driver update causes a problem and you need to use the previous drivers. Despite the fact that it may not always be able to detect all the drivers on the computer. It is still a useful Option.
Download: Advanced Driver Updater
7. Double Driver
Double Driver allows you to scan your computer to detect all installed drivers and access remote systems to back them up and reinstall them as needed. Managing and using your computer's drivers just got easier with a portable application like Double Driver.
The application allows you to quickly and easily identify and manage all of your computer's drivers, allowing you to update them. You can also back up your PC's drivers, which is useful if you need to update or reinstall Windows, for example.
It does not require any installation to begin using it. Simply extract it from the folder you'll be given after you download the software. It enables you to deploy it on nearly any device in a few seconds. You can even deploy it directly from a thumb drive, which helps you keep your drivers safe.
When Double Driver performs an automatic scan of your computer, it detects any drivers that are not included with your operating system and allows you to back them up in any storage location for future use.
It also lets you save installed drivers as text files. It is not only free, but it is also portable, so you do not need to install anything before running it. It's one of the best tools for managing drivers on your Windows PC, so give it a try.
Download: Double Driver
Also Read:
The Best Android OS for PC In 2023
Best Dark Themes For Windows 10 In 2023
Comparing NTFS Vs ReFS – What You Need to Know