Sending Photos on WhatsApp can be a great way to share memories with family and friends. However, the quality of the pictures sent can be affected by its size, resolution and format. To ensure that your pictures are sent in high-quality, there is a perfect technique that you should follow.
This technique involves compressing the picture size before sending it, ensuring that the resolution is high enough for WhatsApp to recognize it, and choosing an appropriate file format such.
By following this technique, you will be able to send high-quality pictures on WhatsApp without compromising on their quality or clarity.
How To Send High-Quality Photos and Videos on WhatsApp In Android
Don't let your photos degrade in quality when you share them on WhatsApp! Get the top tips to keep your pictures looking crisp and sharp. Find out now!
1. Launch WhatsApp and browse the chat you want to send the pictures to.
2. Click the "Attachments (paper clip)" icon inside the chat.
3. Click On "Document." The file explorer on your Android phone will now be accessible.
4. Depending on the model of your phone, you may notice a button labelled 'Browse Other Docs.' click on it.
5. To send an image, Go to the 'Images' tab and Click on the image you want to send. You can also select multiple images by long-pressing on an image and selecting the images you want.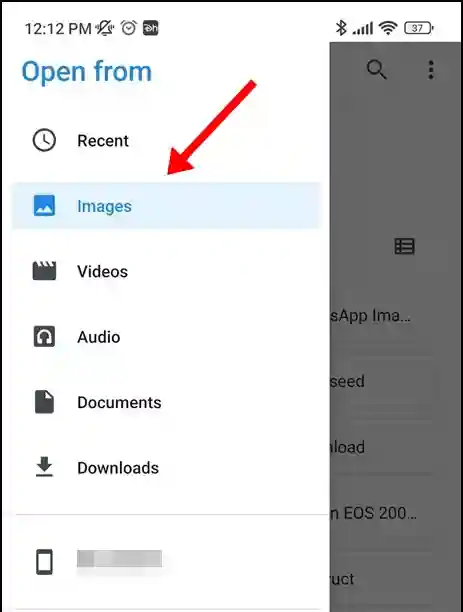 6. The app will now ask for confirmation before sending the chosen documents (images). Click on "Send."
7. Photos will retain their original size and quality when shared as documents without any compression.
How To Send High-Quality Photos on WhatsApp In iPhone
Before transmitting an image or video as a document on WhatsApp, iOS users must first save it to the Files app. Here is what you need to do.
1. Open the Pictures app on your iPhone and choose the photo or video you want to share as a document.
2. On the bottom left corner, click the "Share" button.
3. Scroll down below and click on "Save to Files."
4. Open WhatsApp and, choose Document from the menu by clicking the "+" icon.
5. Find the photo or video, then click to send it.
6. This method allows quick and best-quality delivery of photos and videos to the user. Users should note that WhatsApp should be used to send files and not the Gallery app.
Choose The Best Quality for The Photo Uploads
This is the easiest of all the options. The answer is simple, and WhatsApp lets its users access it as a built-in function.
1. Open the WhatsApp and select the three dot icon in the upper-right corner.
2. Choose the Settings option from the list.
3. Choose the Storage and data option from the Settings screen.
4. Then under Media upload quality section choose Photo upload quality.
5. From here you can choose Best quality.
There are three photo upload quality options- Best quality, Data saver, and Auto (recommended). Best quality offers the least compression, Data saver compresses your image as much as possible, and Auto (recommended) compresses your images/videos based on other dependency factors like your Internet speed.
Once you have selected the Photo upload quality option that best suits your needs, hit the OK button to proceed. That's it!
If you're looking for a quick and easy way to compress your images, the Best quality option is the most straightforward solution. However, it's not the most efficient option, as there are no noticeable differences between the three different modes.
Even if you choose the Best quality option, your images will still be compressed to some extent. If you're not satisfied with this solution, please try out the first way in this article.
Also Read:
Best Sticker Packs for WhatsApp In 2023
How to Translate WhatsApp Messages On Any Language
Using Dual WhatsApp Accounts in One Phone A Beginner's Guide