We've all been there: you need to build an app, but you don't have a developer on staff. Or maybe your company is overworked and understaffed and everyone is working on the same project. Maybe you're just not tech-savvy enough to create something like this yourself.
Whatever your reason, there are plenty of platforms out there that allow anyone with a few clicks to build their own apps without coding knowledge. Here we'll explore some of the best options for building mobile apps without any coding skills whatsoever!
Creating an app without coding is now easier than ever before. There are a number of online platforms that allow users to build their own apps without any coding knowledge or experience.
These platforms provide users with an array of design tools, modular components, and other features to easily create custom apps with no coding required. Such platforms enable users to create professional looking apps for multiple platforms, as well as utilize templates and pre-made designs.
This is a great way to build an app from scratch without any coding skills and it comes with a range of features and tools to make the entire process smoother.
Best Platforms To Build Apps Without Coding
1. Appy Pie
Appy Pie is a platform for building native mobile apps. The company's goal is to help you build your app without coding. And they offer a wide range of features that make it possible.
Appy Pie has a visual editor and code generator that let you design the look and feel of your app with ease, then export it as .xml or .xib files that can be imported into Xcode 8 on MacOSX or Android Studio 3 on Windows 10 (or any other platform).
The platform also offers access to thousands of pre-built designs from other designers who have created apps within Appy Pie's ecosystem. So if you don't have time or expertise developing an entire project yourself. There are plenty of resources available at your fingertips!
Once your design is ready for production, just run through the quick process of uploading it into production mode. So everyone knows when they're seeing something new!
Link: AppyPie
2. Andromo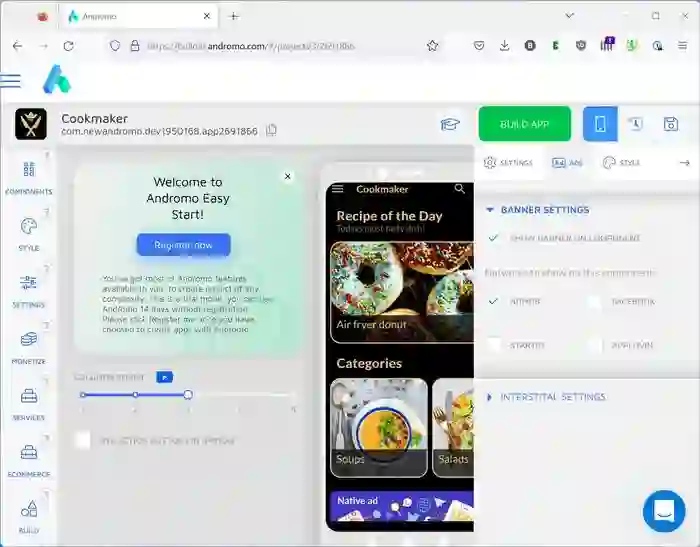 Andromo is an online app and website building platform that allows users to build their own custom Android and iOS apps quickly and easily. It is a simple yet powerful drag-and-drop app and website builder, making. It easy for users to create professionally designed and optimized Android apps for their businesses and other interests.
The platform also includes features such as analytics and user engagement tools, so you don't have to worry about how your app will perform on different devices or operating systems.
With Andromo, there's no need for any coding knowledge at all—you simply choose from their library of templates that include pre-built components like lists and buttons (or add new ones). You can even create mobile games using HTML5 if you want!
The platform is completely cloud-based, which means users can access and edit their app from any device with internet access from around the world. It includes an intuitive UI that makes designing and building apps a fast and straightforward process, enabling users to create apps for their specific needs in a matter of minutes.
Andromo also offers a number of features so users can tweak and customize their apps, including the ability to quickly add content, design custom layouts. And add various interactive elements like forms, slideshows, and more. It even lets users deploy their apps to the Google Play Store or any other app stores with just one click.
In conclusion, Andromo is a powerful and intuitive platform that makes creating and launching Android apps a breeze. It offers users a fantastic range of features to bring their apps to life and make them competitive in the market. For anyone looking to develop their own Android apps, Andromo is an ideal solution.
Link: Andromo
3. Bubble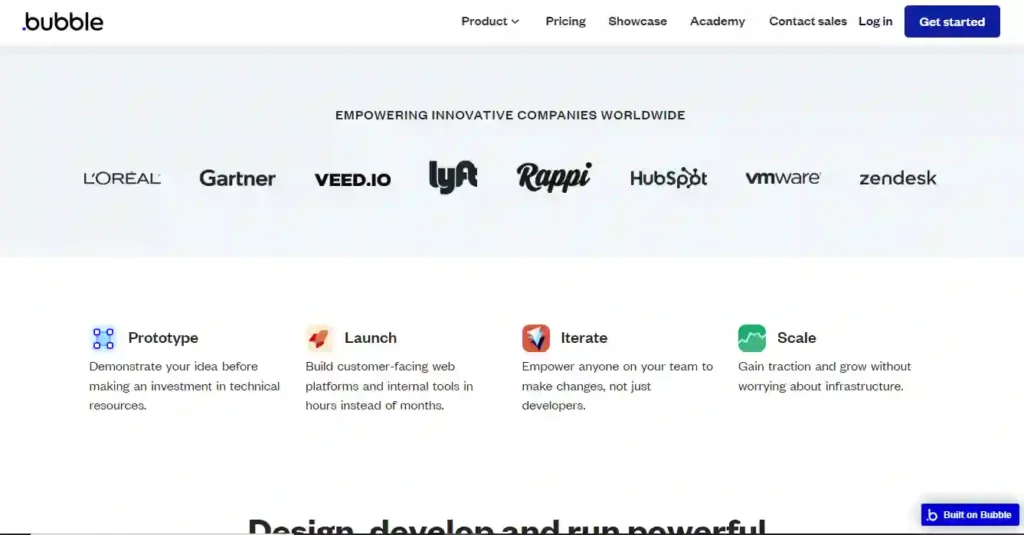 Bubble is a drag-and-drop app builder that allows you to create apps for iOS and Android. It has a free plan that allows you to build one app, and it also offers paid plans that allow you to create unlimited apps.
Bubble's interface is straightforward, so there's no learning curve or confusion when starting out—but if you're looking for an easy way to build apps without coding skills, this might not be the right tool for you.
Bubble is highly regarded by potential customers because of its impressive security, user-friendly interface, and scalability features. What makes it even more attractive is its wide range of customizable components, making it a powerful tool for software development.
Link: Bubble
4. AppsGeyser
AppsGeyser is a web-based app maker that enables you to build any type of mobile application without coding. It's easy to use, even if you're not technical. The drag and drop interface makes it simple for non-technical people to create apps with minimal effort. There are hundreds of templates available so there's always something new for you to try out!
There is an option to pay a subscription for premium features such as getting rid of the AppsGigger branding, however, we didn't feel this was particularly important as there aren't many restrictions to using the free version.
When you use AppsGeyser, you get to choose from a wide range of templates; From as basic as turning a website into an app, to game apps like "Word Search" or "Tap the Cookie". After selecting your app template. You hand over control to AppsGeyser and customize certain elements by just filling out a form.
For example, if you are wanting to create a game such as "Tap the Cookie", you can personalize the words and images used in the game. AppsGeyser provides a preview screen of what your app will look like once completed. However there have been some issues in the past with the preview not functioning correctly.
If you are looking to develop an app with the least amount of time and effort invested, then AppsGeyser is your ideal platform.
Link: AppsGeyser
5. Thunkable
Thunkable is an online app builder that allows you to create your own mobile app without coding. The site boasts over 1M+ users and allows you to choose from a selection of templates, add content and images, customize the look and feel of your site or app by choosing from a variety of themes and color schemes.
When creating a new account on Thunkable it will walk you through the process step by step as well as provide helpful tips along the way so there's never any confusion about how things work!
Thunkable's online app builder is extremely easy to use, especially if you're not tech savvy. The site provides several different templates from which to choose. So no matter what type of app or website you want to create your options are virtually endless!
You can also add text, images and video content as well as customize the look and feel of your site or app by picking from a variety of themes and color schemes.
Link: Thunkable
6. Construct 3
Construct 3 is a game engine that allows you to create games for Android, iOS, Windows, macOS, and web browsers without needing any coding knowledge. It's great if you want to create an app that will work across all platforms without having to worry about coding each platform separately.
You can begin by dragging and dropping various objects onto the stage, such as buttons or game sprites, with the intuitive drag and drop editor. Afterwards, you can add behaviors to these objects in order to create complex logic with the help of the visual programming interface.
What's more, you can even design your own visuals with the integrated graphics editor. In conclusion, Construct is an excellent choice for a no code game engine.
Link: Construct 3
You can build mobile apps without any coding knowledge.
If you want to build an app, but don't have any coding knowledge or time to learn it yourself. Then there are plenty of apps available on the market that have been built by people without technical skills. These platforms allow you to design your own website and then connect it with the mobile app platform. So that users can access their content through their phones and tablets. You can use these tools as an alternative way of building apps without coding experience.
Conclusion
It's hard to believe that you can build apps without any coding knowledge, but it's true. There are plenty of platforms out there that will help you create your own mobile app without actually writing code. These platforms can be used by anyone and don't require any programming experience or expertise in order for them to function properly. In this article we have listed some of the most popular ones which include Bubble, Appy Pie, Thunkable, and Andromo.
Also Read:
The Best Ai Anime Editor Apps For Android And iOS
The Best Screen Recorder For Windows Pc In 2023
The World's Top 8 Most Famous Female Hacker