If you are tired of the autoplay feature on YouTube, you can easily Turn off Autoplay on It. Autoplay is a feature that automatically plays the next video in the queue after the current video ends. This can be annoying if you don't want to watch all of the recommended videos.
Fortunately, it is easy to disable this setting and take control of your YouTube experience. In this article, we will explain how to turn off Autoplay on YouTube so that you can enjoy watching your favorite videos without any interruptions.
Letting YouTube automatically play videos in your Home Screen can be annoying. Discover here how to disable Autoplay and take control of your YouTube experience.
Turn off Autoplay While Scrolling on YouTube Home Screen
The autoplay feature on the YouTube home feed can be helpful when you want to quickly preview a video to see if it's something you're interested in watching. However, it can also be annoying and use up a lot of data if you're not careful.
Fortunately, it's easy to stop YouTube videos from playing automatically when you're scrolling through the home feed. Here's how to do it on Android and iPhone.
1. Open the YouTube app on your phone and Click on your Profile Icon > Setting
2. From setting menu Tap on General.
3. Inside General menu Go to Muted playback in feeds. and change it to Off. If you want, you can keep it enabled on Wi-Fi only; that way, videos will only play automatically when you're connected to Wi-Fi and not on mobile data.
How to Enable or Disable YouTube Autoplay
Launch the YouTube app.
Open any random video.
The toggle button is located at the top of the video. To turn off the feature, simply click on it to slide it to the left. To enable it again, slide the toggle button towards the right.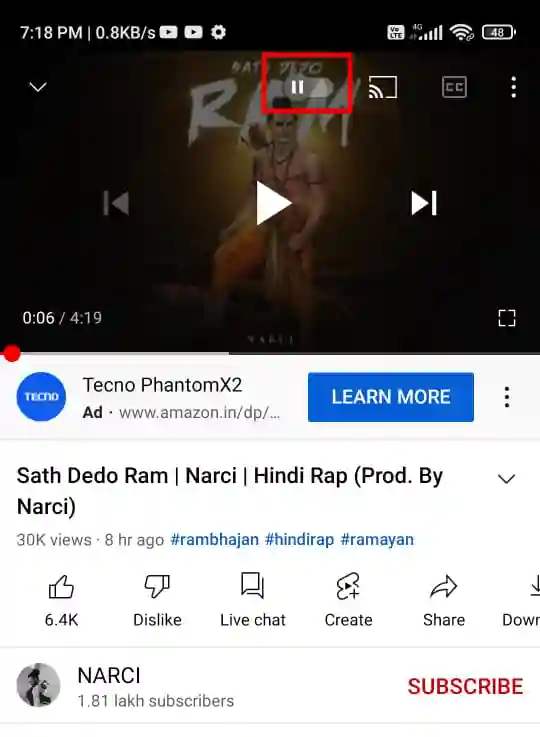 It is important to remember that autoplay will not run indefinitely. If you are connected through mobile data, the setting will switch off after 30 minutes of inactivity. Whereas, on a Wi-Fi connection, it will stop after four hours of no activity.
Also Read:
How to Enable Dark Mode in Snapchat
How To Turn Off YouTube Thumbnail Preview
Download Instagram Reels Video And Stories